Local comedian comes home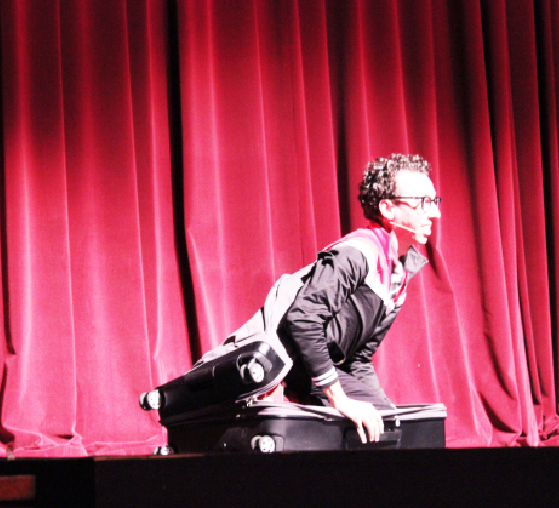 A Johnstown native and former "America's Got Talent" contestant performed at the Pasquerilla Performing Arts Center on  Sunday.
Jonathan Burns, a Richland High School graduate, auditioned for "America's Got Talent" this past season with his comedy contortion act and got to the second round of the competition.  
Burns caught the judges' attention when he was wheeled out in front of them on stage in a small suitcase by host Terry Crews.  
His audition consisted of him dancing in front of the judges while stripping to reveal multiple layers of clothes and contorting his body through a toilet seat and through a tennis racket.
He did not make it through the second round.
He said ever since he was little, he always knew he could make people laugh, and that he showed off his talents as a kid to whomever he could.
"I would show off my party tricks to my friends, my parents' friends, teachers, preachers, and pretty much anyone who would watch." he said.  
"I started to learn some magic tricks in Middle School, and then I was asked to perform at events around town, and, now, many years later, people are still asking.
 "I think I was drawn to performing…because I liked being unique and using my talents to make people react and laugh," he said.
"Now I've been able to turn that into my profession without having to get a real job for most of my life."
When a person wants to audition for "America's Got Talent", they have the option to either audition in front of the show's producers in person at an audition city or send in a video showcasing their talents.
Burns said he sent in a video and was selected to be on the show, and that he was anxious to audition in front of the judges.
"I perform hundreds of shows every year, and then the audience reacts how they see fit, but, when you perform on this show, four audience members get to react and then tell you in great detail of what they thought, and/or they can buzz you with giant red X, which was the scariest part for me."
Burns said it didn't hit him exactly how important his audition was until after his episode aired on TV.
"It was exciting to be selected, but it wasn't until after it was on TV that I
realized how big that show is. 
"Since it aired in June, I get people after every show mentioning that they saw me and how much they enjoyed it," he said.
Burns said he was asked to perform at the Pasquerilla Performing Arts Center and that he can't wait to come back to his hometown.
 "I was born and raised in Johnstown, so it is exciting to come home and show off I've been up to for the past 20 years," he said.
"I still have lots of family and friends in the area, so I'm excited to see them. Also, I hope to make time to get a Coney Island hot dog and a Smiley cookie."
Pasquerilla Performing Arts Center Executive Director Michael Bodolosky said Burns appeared on multiple TV shows in addition to "America's Got Talent", such as "The Late Late Show with James Corden", "The Tonight Show with Jay Leno" and "Daniel Tiger's Neighborhood".
Burns said he encourages anyone who might be afraid of showing off their talents to just go out and do what they love to do.
"If there is something you really want to do, just go for it. It's scary for sure, but you never know where it might take you," he said.
"I never knew that when I was a 13-year-old kid magician that I would be invited around the world, be on TV, and be asked to perform at the (Pasquerilla Performing Arts Center)."