Foreign Language Department encourages language learning with annual Spanish Week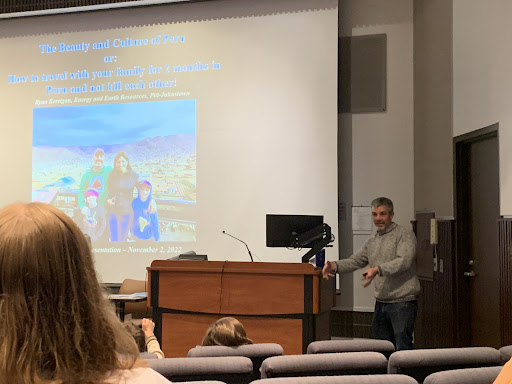 Last week, Pitt-Johnstown held its sixth annual Spanish Week. Spanish professors of UPJ's Foreign Language Department planned a week full of events to encourage students to learn about and experience Hispanic culture. They focused on participating in language learning and traveling to Spanish speaking countries.
The events started on Tuesday, Nov. 1, with a presentation on "Infectious Diseases of Bolivia: A Study Abroad with a Research Component" by Dr. Jill Henning, Professor of Biology. On Wednesday, Nov. 2, Dr. Ryan Kerrigan, Department Chair and Associate Professor of Energy and Earth Resources, presented "The Beauty and Culture of Peru, or: How to Travel with your Family for 2 Months in Peru and Not Kill Each Other!" On Thursday, Nov. 3, the presentations wrapped up with student George Ungerer's "A Change of Perspective: My Experience in Bolivia." Afterwards, Spanish week concluded with a screening of the animated film Encanto in the Cambria Room of the Student Union, organized by the Pitt-Johnstown Spanish Club.
In 2017, Dr. Alvaro A. Bernal, Professor of Foreign Language and coordinator of the Spanish Program, proposed this campus wide event. He said that "The idea is to expose the students to the culture and to see the importance of the Spanish language." However, Bernal noted that participation has not been at the level that he would like to see it. "I don't see that students in general are aware of the importance of speaking a foreign language," he said. "So, many times with extracurricular activities at the university, attendance is low. Many times, faculty has to offer extra credit to make the students go."
"In general, college is not only attending classes, but college also means attending lectures, making new friends, going to parties, that kind of knowledge that is outside the classroom," Bernal said. He believes that college is not just about working towards a degree but also about developing life skills and experiences. He wishes that more students had that drive or passion to learn outside of their required course work. "Sadly, I have to say that in the last ten years, I haven't seen that, we call it in Spanish, 'fuego interior,' that internal fire." Bernal notes that enrollment has been up in elementary Spanish courses at UPJ, however, after graduation requirements are fulfilled, the number of students in the higher-level Spanish courses dwindles.
Bernal hopes that events such as Spanish Week will express to the students how important learning the Spanish language is and how impactful learning about another culture can be. Spanish is offered as a minor at UPJ for those who want to supplement their education with an understanding of this rapidly spreading language and culture. Anyone is welcome to join the Spanish club or even participate in a study abroad program to a Spanish speaking country.