Mountain bike trail construction at Pitt-Johnstown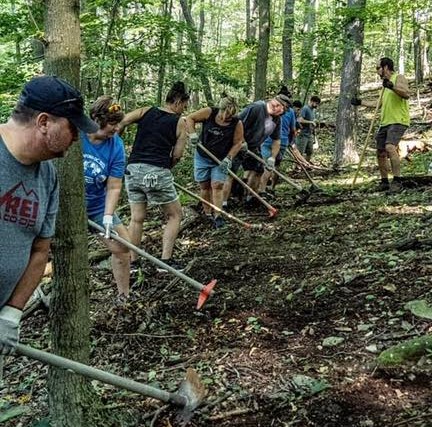 Pitt-Johnstown is currently partnered with volunteers from the Laurel Highlands On and Off-Road Biking Association (LHORBA) to construct a mountain bike trail on campus. After the project was launched, interested volunteers committed to the first trail construction day in April of 2022. Volunteers brought rakes, shovels, and chainsaws to remove fallen trees and debris from the new path. Since then, there have been a handful of other trail construction days, with the most recent being held on Saturday, Oct. 29.
Part of the trail-in-progress runs along the outside of UPJ's track and soccer practice fields, where there is already a vast network of other hiking trails. The trail route was scouted by local volunteers from LHORBA, who then contacted Dr. Raymond Wrabley, UPJ Chair of the Division of Social Sciences and Division of Business and Enterprise, about gaining access to the university grounds.
Wrabley, who was familiar with the organization, advocated for the group to Dr. Jem Spectar, President of Pitt-Johnstown, who is a strong proponent of healthy living for students and staff. Spectar thought the trail was a great use of campus resources to promote health, so he approved the project.
Before the proposed trail route was settled on, a few UPJ biology and geology faculty members walked the potential path to identify biologically sensitive or geologically vulnerable areas that would not be ideal for the bike trail. Now, with the first segment of the trail close to being completed, LHORBA members and campus volunteers expect that Saturday's trail work will result in approximately one and a half usable trail miles completed of the expected six to seven miles in total. They note that later in the construction process, the trail may require greater excavating due to the number of large roots and debris in the path.
Rich Maher, Vice President of LHORBA, has been responsible for organizing the UPJ trail days, and volunteers have come from all over the community. He has worked with REI, an outdoor outfitter that has a distribution center in Bedford, Pa. that requires outdoor service from their employees. Volunteers from the company have attended multiple work days. Students from a variety of majors have participated as well, many of whom are mountain bikers themselves and are looking forward to riding on campus.
Currently, Abby Schauf, Campus Activities and Engagement Coordinator, is organizing a mountain bike club at UPJ after rising student interest. Contact [email protected] to join them. Anyone is welcome to aid in the construction of the trail. To attend a future work day, contact Dr. Ray Wrabley at [email protected].