Johnstown goes all out this Halloween season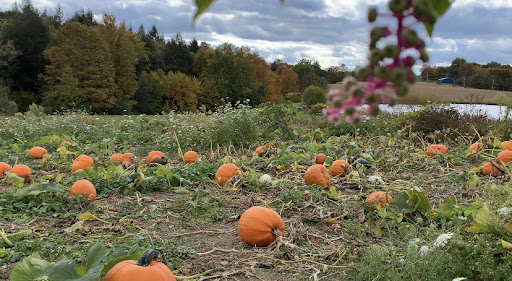 This spooky season, the Johnstown community is holding some scarily fun events.
Starting at our own university, Pitt-Johnstown Program Board is now selling tickets for Kennywood Phantom Fright Night. Students are asked to pay just $10 to participate. There's a limited number of tickets, so sign up fast. The event date is Friday, Oct. 21 and will last from 5:30 p.m. to 11:30 p.m. Go to the campus events calendar to sign up for your ticket: Pitt-Johnstown Program Board Presents: Kennywood Fright Night – University of Pittsburgh.
After you've had your fill of fun on campus, go out and explore what the Johnstown community has to offer this fall season.
Discover Downtown Johnstown is hosting a Halloween movie night on Saturday, Oct. 15, at 6:00 p.m. in Central Park where they will be showing a screening of Hocus Pocus. After the movie, they will kick off Halloween with the illumination of their animated display which will run every night until Halloween from 6:00 to 9:00 p.m. Participants are encouraged to bring a lawn chair or blanket for the movie and to wear their favorite Halloween costume.
While you're in Central Park, take a walk around to look at the submissions to Discover Downtown Johnstown's annual Scarecrow Competition. These straw friends will be on display until Oct. 31.
If you have a whole day to spend basking in the fall fun, take a trip to Weakland Farms in Portage PA, located 20 minutes from Pitt-Johnstown. Weakland Farms has a wide variety of fall activities. They offer a corn maze, with a different themed scavenger hunt each year, a wagon ride to their pumpkin patch where you can pick out your own pumpkin with hundreds to choose from, live music, barnyard animals, a country craft store, and more. This 2022 season, they're open every weekend from Sept. 10 to Oct. 30 at just $10 admission price. Check out this year's schedule here: Weakland Farms Corn Maze.
If you're looking for something more frightful, don't worry; Johnstown's still got you covered. The State Theater of Johnstown is hosting another Halloween Movie Series at their 336 Main Street location. At just $5 a ticket, the theater will be showing a wide variety of spooky movies every weekend until Oct. 29 and 30, when they will be showing a 10:00 p.m. and midnight showing, respectively, of the cult-classic movie, Rocky Horror Picture Show. Tickets and the movie lineup for the rest of the month are available at: The State Theater of Johnstown.
If you're not scared enough yet, Wicked Woods is sure to put you in a spooky mood. This free "haunted trail" is located at 129 Seese Dr, Johnstown, PA, in Richland Township. The event is running Oct. 21, 22, 28, and 29 from 7:30 p.m. to 10:15 p.m.
These activities are sure to put the Halloween holiday spirit in you. Pun intended. Have a great Halloween season.