Pitt looks to community as Pa. tuition bill at risk of not passing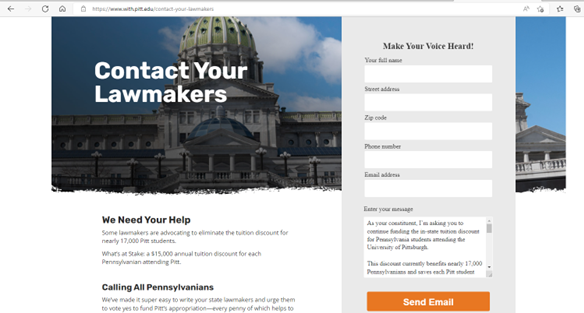 The University of Pittsburgh is at risk of losing a decades-long in-state tuition discount that has been provided by a bill that may not pass the state legislature this year.
If the appropriation bill does not pass, as it has previously for nearly 6 decades, 17,000 Pitt students and their families could lose vital tuition support, university officials said.
Earlier this year, Pennsylvania Gov. Tom Wolf recommended a 5% increase in funding for higher education institutions in his 2022-23 executive budget proposal, but some state lawmakers are opposing this bid.
State appropriation bills affect state-related universities. Pitt, Penn State, Temple and Lincoln are all at risk of losing tuition support.
According to data from the National Centers for Education Statistics (NCES), Pennsylvania students that are awarded aid pay an average net price of $20,477 for college tuition compared to the national average of $15,090. Pennsylvania has the second most expensive college tuition in the United States, as reported by Self Financial, Inc.
The discount that the appropriation bill brings typically saves an in-state Pitt student around $15,000 in tuition costs annually, a savings of $60,000 over four years.
"Of that discount, Pitt pays more than 60 cents ($6,100) to every state-appropriated dollar ($8,900)," according to a university spokesperson.
The budget must be passed by June 30, and Pitt community members are rushing to advocate for the bill.
In late March, Pitt's chancellor Patrick Gallagher sent a plea to the Pitt community, urging them to become Pitt advocates and contact lawmakers.
"In just a short period, thousands of Pennsylvanians have already contacted their elected officials—via phone, email and in person—and urged them to protect the state funding that supports this life-changing benefit," the university spokesperson said, "Students and their families understand what's at stake, and they are raising their voices in solidarity."
Now, more than 120 organizations and groups have joined the voices advocating for Pitt and urging lawmakers to preserve the in-state tuition discount.
The spokesperson said that recently, Pitt's Student Government Board passed a resolution calling on the state legislature to fund the university, and Pitt's Democrat and Republican student groups as well as businesses and residents in Pitt's campus communities are also getting engaged.
Gallagher says that many factors are in jeopardy if the bill does not pass. In his email to the Pitt community, he notes that "current Pitt students and their families will suffer instant financial consequences, current residents will look beyond the commonwealth to continue their education, local communities will see an exodus of homegrown talent and Pitt's power as an economic engine—including injecting more than $4 billion into the state's economy annually—will be compromised."
He encourages community members and students to join the "Pitt Advocates Network," located at Join Pitt Advocates | With Pitt | University of Pittsburgh, to learn about information and opportunities to save the in-state tuition discount for current and future Pitt students.