Character is key of offers, acceptance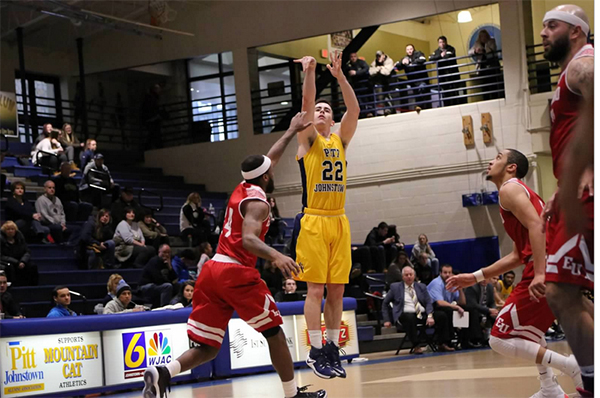 Athletes are drawn to Pitt-Johnstown because of coaches, the campus itself or the teammates they might have.
To be recruited, from a players viewpoint, is to have a potential spot playing the sport they love.
From a coach's viewpoint, to recruit a player means that they will improve their team in the future.
According to headwomen's soccer coach Rachel Gironda, finding a good person, as well as their athletic talents, contribute to her recruiting choices.
"In addition to the recruit being a talented soccer player, it is really important that I find a recruit with integrity and character," Gironda said.
"These are more important than their talent. Those are the types of recruits I am looking for."
The campus grounds also are a big factor in a recruit's decision to accept a coaches offer at Pitt-Johnstown.
According to Gironda, visiting a campus is one of the first things she has recruits do.
"This way, they get to see the campus and also meet with myself and the team; seeing our campus firsthand and all it has to offer is a huge factor in drawing them to Pitt-Johnstown."
If a player decides that they like the Pitt-Johnstown campus and their potential future coach, they might consider their potential teammates.
According to Gironda, every recruit meets current players.
"All of our potential recruits meet our players at some point," Gironda said.
"Also, most of our current players came and stayed overnight on campus on their official visit to really get to know the team when they were being recruited."
"I do ask our current players what they think of recruits, both their playing ability and character. It does weigh in my decision."
When a recruit is down to the final two colleges, Gironda said that it is hard to sway a recruit's decision because various aspects play a role in their decision.
"Each recruit is completely different.
"Some examples are financial reasons, distance from home or the opportunity to play as a freshman," said Gironda.
"Academic reasons and more also play a role," Gironda said.
"Getting to know each recruit and what their specific goals are for their collegiate career is key."
From a player's perspective, getting recruited is a world of choices and possibilities.
Men's basketball redshirt freshman guard Josh Wise, said he had choices of schools to play basketball or football at.
"I had to decide between a preferred walk-on at Pennsylvania State University for football, University of North Carolina-Charlotte for basketball or a few other schools for basketball," said Wise.
"I chose Pitt-Johnstown because it was the perfect distance away from home and gave me the chance to play basketball at the next level" said Wise, who is from Washington, Pa.
"I also played against Dale Clancy (junior) and Levi Masua (junior) in high school and we formed a tight bond; I wanted the chance to play alongside with them."
According to Wise, head coach Bob Rukavina talked to him a good amount through his senior year in high school.
"I met coach (Rukavina) during my senior year. He shot me a text message asking me if I would be interested in coming to Pitt-Johnstown and playing," Wise said.
"He talked with me a lot my senior year, my year at preparatory school, and my semester off. We kept in constant contact; he recruited me harder than anyone else."
Wise said his future teammates had the biggest impact on his decision to commit to Pitt-Johnstown.
"I came to play pick-up, and everyone was welcoming," said Wise.
"They took the time to get to know me and were open people and a great group of guys who left a great impression on me," Wise said.
"It was the most unselfish group of guys I had ever met, all they cared about was winning; they were a perfect group of guys for me. I was sold after that."
According to senior guard Jake Laravie, his recruitment began with his older brother.
"My older brother's first coaching job out of college was at Pitt-Johnstown with coach Rukavina," Laravie said.
"So, my senior year, my brother told Rukaina about me and he came to a couple of my high school games, and I came to campus for a visit two weeks after my season had ended."
According to Laravie, Rukavina kept in touch with him quite a bit.
"He offered me my scholarship while I was on campus for a visit," said Laravie.
"Pitt-Johnstown was basically my only offer for Division II, so, about a month after my visit, I decided to commit here."
Laravie said that he had to decide between Pitt-Johnstown and a couple of Division III schools.
"If I did not have the opportunity to play here, I probably would have attempted to walk-on a Division I school near home, or go play at a Division III school," Laravie said.
"On my visit here, everyone made me feel welcomed and safe, though."
Laravie said that the teammates had to make him feel as though he was at home, being from Dayton, Ohio.
"Being five hours away from home, my teammates here made me feel as though Pitt-Johnstown was my home," Laravie said.