Student Spotlight | UPJ Basketball Player Trains as Pilot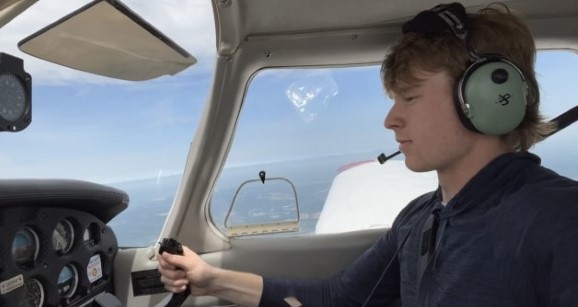 As the winter sports season begins to ramp up, many student-athletes are trying to find the right balance between classwork and athletics. One of Pitt-Johnstown's basketball players, however, is attempting to balance those two with a very important third thing: training to be a pilot.
Andy Zuchelli, a sophomore who came to UPJ locally from North Star High School, has had his private pilot's license since the spring of 2021. Zuchelli said that his cousin, a pilot for JetBlue, was his main inspiration to start training for his license, which took roughly six to eight months to earn.
Zuchelli played varsity basketball all four years of high school, totaling 101 games played. His production peaked in his senior year when he averaged 26.4 points per game and was named 2019-20 PIAA Class 2A First-Team All-State. Additionally, Zuchelli earned the honor of Somerset County Most Valuable Player.
Zuchelli, who said he has had a love for the game of basketball for as long as he can remember, has since become a regular contributor for the Mountain Cats. This season he is averaging 18 minutes and 7 points per game. "It's a really similar feeling to flying and aviation," he said of the sport. Zuchelli scored a career-high 13 points in this year's season opener against West Virginia Wesleyan College.
As he continues his basketball career at Pitt-Johnstown, Zuchelli said he plans to keep training with the goal of eventually earning his commercial pilot's license. "Commercial is the main goal for everyone, obviously. I'm working on my instrument rating right now, which is basically bad weather flying, using all of the instruments inside of the airplane instead of visuals outside." Once he completes 35 hours of training to earn his instrument rating, Zuchelli will move on to focusing on his commercial license.
As for what he hopes to accomplish during the remainder of the 2022-23 basketball season, Zuchelli said, "the goal is to win as many games as we can. Last year we had a great season, just missed the national tournament, and I think that's everyone's goal–for all the older seniors, and our coach, especially." Zuchelli and the Mountain Cats currently sit at 5-3 and are in fourth place in the PSAC Western Division.