A revered wrestling coach; Pat Pecora continues to leave lasting impacts on his athletes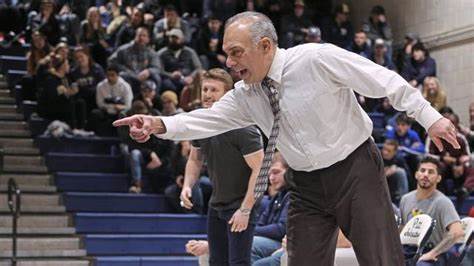 Through 45 seasons at the University of Pittsburgh at Johnstown, wrestling coach Pat Pecora has always approached coaching in the same manner his parents approached raising a family.
While he became the NCAA's all-time wins leader among all divisions in 2020 with 618 career victories and has won three NWCA Coach of the Year awards, his abilities to teach on the mat aren't the only reason he's built such a successful program at UPJ. Over the years, Pecora has developed a "dad-like" relationship with his wrestlers, as he would describe it.
"When you're in your 20s, you're the 'big brother,' and then you go through what I call the 'young uncle' stage, where you're still kind of cool, you're in your 30s and 40s, you can still hang with the guys a little bit. Then you get into your 'dad stage,' that's where I'm still teetering on," he said.
"I'll know I'm a good coach if everyone on my team feels like brothers," Pecora said, adding that he wants his athletes to care about each other and support each other as if they were truly siblings.
While his parents were his main role models who shaped his style as a coach, there have been two legendary figures in the profession who have stuck out to Pecora over the years as ones he likes to emulate in his own work: Vince Lombardi of the Green Bay Packers, in part because Lombardi reminded Pecora of his own father, and Duke men's basketball staple Mike Krzyzewski.
"I would describe Coach Pecora as a very caring guy," said Jacob Ealy, an All-American who has wrestled for Pecora since the 2019-20 season. "He truly does really care about you, not just things related to wrestling. He's always asking about how the classes are going, asking about family, and how your day is."
On top of running the school's wrestling team, Pecora has doubled as UPJ's athletic director since 2008.
"It's tough," he said regarding the balance of coaching and administrative responsibilities. He credits a lot of assistants with making his job easier, namely assistant athletic director Abby Gearhart and wrestling assistants Tyler Reinhart, Jodi Strittmatter and Shad Benton.
"It takes a lot of coordination, surrounding yourself with good people," Pecora said. "Relationships are the most important aspect you have in life."
Over the years, Pecora hasn't lost sight of the philosophy he's held in coaching. While he said it was amazing for a small school like UPJ to win two national wrestling titles, he remains most proud of the success his individual wrestlers have experienced.
"Every time someone becomes an All-American or national champ, you feel proud all over again for them," he said. Whether talking about UPJ's first All-American, Barry Gresh in 1979, or their most recent, Ealy in 2021, Pecora said the feeling of seeing one of his wrestlers earn that honor hasn't changed. Since Gresh was named to the All-American team, UPJ has had at least one wrestler earn that honor in each season.
"Consistency is the truest measure of success," Pecora said, whether referring to sports, business, or academics.
"It's easy to be good for a day, a week, a month, or a year," he said. "Can you be good year after year after year after year? Come and see me then."
While Pecora may be an intense and dedicated coach, his dad-like role at UPJ has left a notable impact on his wrestlers.
"Coach Pecora has high expectations for us as wrestlers; he wants us to perform well in all aspects of life," said Brock Biddle, a three-time NCAA All-American under Pecora who is in his senior year at UPJ. "Whether that be with our families, in school, or on the mat, he expects us to be respectable men with integrity. I think having that high standard has made me strive to be a better wrestler and person. I am forever thankful for what Coach Pecora has done for my life. Having been at UPJ for five years, I have developed a personal relationship with him, and I see that relationship lasting for the rest of my life."
As Pecora teeters on the tail end of his "dad stage," he says the thought of not coaching hadn't crossed his mind until recently.
"As you get older, it's something you have to think about," he said, but he still can't imagine doing anything other than coaching. "It becomes who you are, what you do."
He added that he's still driven by coaching each year and is excited to face new challenges.
"From the beginning of the season to the end, can I get a group of young men with all individual goals and have them work together to achieve something greater than they would've done by themselves?"
As an example, he referenced this year's wrestling team, from which six out of the 10 starters had never wrestled in a varsity match before the 2021-22 season. Despite this, UPJ's wrestling team finished the season with a 13-1 record and won the NCAA Division II Super Region I Tournament in Johnstown on Feb. 26, along with a 12th place finish at the NCAA Division II National Wrestling Championships in March.
Pecora said as long as his health remains well and the program continues winning, he'll stay as coach. "As long as I'm climbing the mountain and I'm trying to get better every day."