Two Brothers, One Game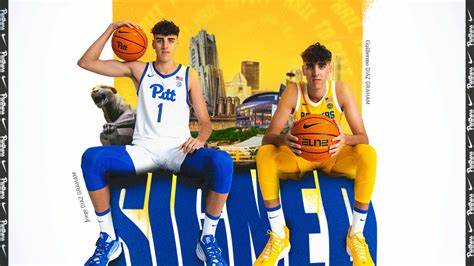 On March 17, after a 59-41 win over Iowa State, the University of Pittsburgh's men's basketball team officially made it to the second round of the NCAA March Madness tournament for the first time in nearly 10 years.
Guillermo Diaz Graham, a freshman on Pitt's team, dominated the court as a starting center in all three of the March Madness games played by Pitt in the 2023 tournament. He commented, "I felt super grateful and proud that I had the opportunity to do it."
In 2014, Coach Jamie Dixon took the Pitt men's basketball team to the second round of playoffs as the 9th seed. 9 years later, Coach Jeff Capel took the 2022-2023 Pitt men's basketball team back to the second round of the NCAA playoffs, entering as the 11th seed.
This was Capel's fourth NCAA tournament appearance, but the first-time taking Pitt there since he took over as head coach in the 2018-2019 season.
Over the last five seasons, Capel has focused on rebuilding the team and creating a winning environment by recruiting new players, inspiring excellent players to transfer to Pitt, and focusing on fundamentals.
This year, it was clear to see that his efforts have been successful. His recruiting success is apparent in the newer Pitt students who have turned into impactful players on the court. Two of those players are the Diaz Graham brothers.
Standing at 7-foot and 6'11 respectively, Guillermo and Jorge attended high school at IMG Academy in Florida kicking off their basketball career in America after moving from the Canary Islands in Spain. The Diaz Graham twins made their first appearance at Pitt during the 2022-2023 season.
"In America you get the opportunity to play basketball but also to pursue a degree and education," Jorge Diaz Graham said. "That is a big deal here and that's why we came here," he said. Little did the twins know how impactful they would be to this year's team.
After sophomore Federiko Federiko suffered an injury prior to the start of the NCAA tournament, the Pitt team was without its starting center. Capel called Guillermo to fill that position during the tournament.
"In the moment, I was very nervous and didn't like it," Guillermo Diaz Graham said. "But now I think it was a good experience and I think I was very proud of how it went."
This was the first time Guillermo started in any collegiate game, and he felt significant pressure. He remarked, "I felt it on the court [and I was exhausted after 5 minutes of playing because I was so nervous," G. Diaz Graham said.
Guillermo was not the only player who was nervous. Jorge also experienced nerves during the start of the NCAA tournament, since he had to rely on his brother to be the team's solid center.
"I was kind of nervous for him too because it was a big opportunity for him," Jorge said. "He fought, but he was just getting pushed around on the floor, so he was making me mad."
In true brotherly style, Jorge was critical of Guillermo's performance that first appearance as a starter. Yet, by the end of the first game, Jorge felt confident with his twin's ability to perform in the tournament.
Jorge excitedly noted, "In the second half he stepped up and started fighting more and he started making big plays. The next game, I think that was the best game he has had, and I was happy for him."
After returning home to Pittsburgh after the loss against Iowa State, the brothers reflected on this past season. Guillermo is thankful for every opportunity that he had and believes that future division 1 athletes should appreciate the journey rather than the destination.
"If you asked me two years ago, I would never say I would be in the ACC playing against Duke or North Carolina; I would have never imagined playing these teams," Guillermo said.
Jorge agreed and noted that it takes hard work to compete at that level, but he also stresses the need for future D1 athletes to have fun and enjoy their time playing their sport.
He suggests, "just play for fun. Have fun doing what you are doing, and I think that is how you get better."
Fans hope to see more Diaz-Graham action on the court next season and are relying on the brothers to return to the Pitt court during the 2023-2024 season and lead the team back to the tournament.