Young Mountain Cats aim for new heights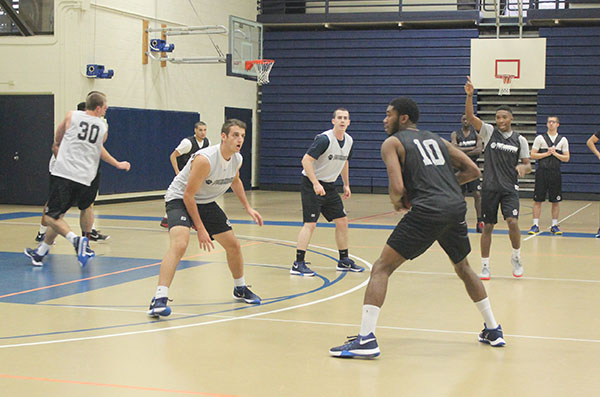 The Pitt-Johnstown men's basketball team is projected to finish eighth in the Pennsylvania State Athletic Conference West Division according to the 2015-16 conference coach's preseason poll.
"The freshman have brought a lot of energy and I think the guys are ready to play." senior guard Nate Snodgrass said.
Sophomore guard transfer from Josh Wise said he felt determined about the season.
"A conference championship and an national tournament bid are the teams goals, and with the group we have, I think that is very possible," Wise said.
Despite unflattering projections, junior forward A.J. Leahey earned a spot on the West Division first-team All-Conference preseason team.
Wise said the team has high expectations for the season after the hard work that was put in over the off-season.  "The offseason workout sessions we had I feel were most important to help us.
"Pick up games help you learn the teams strengths and weaknesses."
Redshirt junior guard Rasaun Mosley said the Mountain Cats want to avoid certain problems that caused previous struggles.
"Its crucial to work as a team and for everyone to contribute."
Sophomore forward Levi Masua said the team should thrive on youth and exubreance.
"Our greatest strength is our youth and depth,"  said Masua
"We have a lot of young guys who are ready to step up."
Mosley said shooting is a strength that the team already possesses.
The Mountain Cats shoot for a .460 field goal percentage as a team averaging 25 baskets made per game.
"We are a good shooting team, but we also gained speed and trained to play a high-pressure defense," said Masua.
"Everyone has made improvements on their game during the offseason, and will continue to do so throughout the season,"  said  Snodgrass.
The Mountain Cats kick off their season Nov. 13 against Bowie (Md.) State  University at the 2015 S&T Bank Atlantic Region Challenge at Indiana (Pa.) University.
The Mountain Cats' home opener is to be at 7:30 p.m November 18th against California (Pa.) University.