Baseball players off to a decent start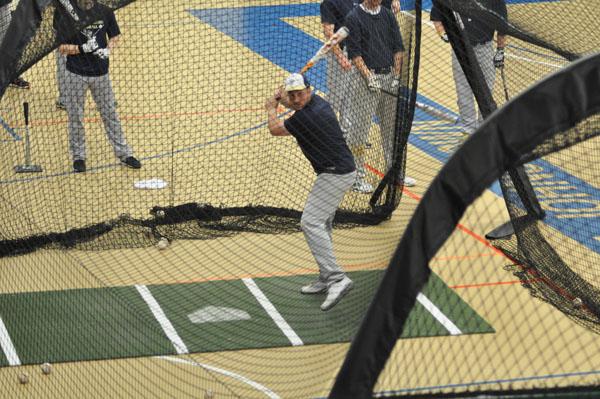 While students relaxed during their spring break, the Pitt-Johnstown baseball team had a busy schedule.
The Mountain Cats played eight ballgames in six days on a Florida trip during which they notched six wins.
The stretch started with a doubleheader against West Virginia Wesleyan College.
Junior John Fees pitched the first game; he tossed six scoreless innings with four strikeouts, leading the Cats to a 7-0 win.
"I had confidence in my pitches, and in my defense behind me, which helps me stay relaxed," Fees said.
"I focused on working ahead, which helped the outcomes greatly."
Junior Derek Younker performed well in the second game by pitching a complete game shutout, leading them to a 5-0 win.
The Mountain Cats had little time to rest. The next day they played two games against Marian (Ind.) University.
Sophomore Nathan Pope struck out nine in six innings to beat Marian University 5-2 in the first game.
The Mountain Cats won the second game 4-1. Junior Rylan Schnably allowed only one earned run in five innings.
The Mountain Cats improved to 5-0 on their road trip with a 10 inning 12-10 win over Nyak (N.Y.) College.
Sophomore Ryan Socol got the win, tossing three scoreless innings and striking out three.
The Mountain Cats dropped their next two games, losing to Southern Connecticut State University and Palm Beach Atlantic (Fla.) University.
The Mountain Cats jumped to an early 8-0 lead, but Palm Beach Atlantic matched runs scoring eight of their own in the bottom half of the first.
They shut out Pitt-Johnstown for the remainder of the game, getting the 13-8 win.
Pitt-Johnstown finished their eight-game stretch with a win over Mercy (N.Y.) College.
Thanks to the arms of Fees and Schnably, Mercy was held hitless until the seventh inning.
The Mountain Cats went 6-2 during their sunshine state trip.
"I think we played really well down there," Schnably said.
"Teams in our conference know that we went 6-2, and they will be playing their best ball to come after us."
Pitt-Johnstown's current record is 12-5 overall and 4-3 in the West Virginia Intercollegiate Athletic Conference.