High school students argue as countries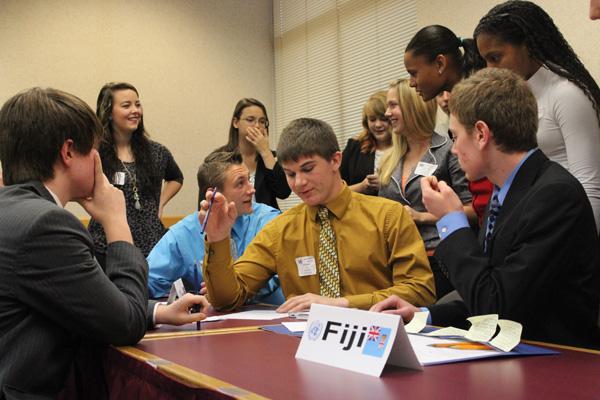 High school students joined together Nov. 15 at Pitt-Johnstown for a Model United Nations event.  Student Council on World Affairs hosted the event.
Students represented a wide range of nations; including Arab states such as Pakistan, Iraq and Jordan.
During the event, students debated world issues and collaborated to create solutions.
"The Model UN program educates high school participants about current events, topics in international relations, diplomacy and the United Nations agenda," Student Affairs Vice President Shawn Brooks said.
Several participants commented on the program.
High school senior Cole Lowe (Northern Cambria), who represented Russia, said he enjoyed the program.
"I have learned to debate, arbitrate (and) compromise," he said.
Tara Bicho, a High School senior (Greater Johnstown), who represented Kenya, said the event was interactive.
"I have learned just how deeply involved you can be with world affairs," she said. She also said she gained critical thinking and social skills.
High school freshman Cole Decker (Chestnut Ridge), who represented Iraq, said that he learned just how uncertain the world is.
The high school participants arrived on Pitt-Johnstown's campus early in the morning and didn't leave until 4 p.m.
"I am very pleased that Pitt-Johnstown (once again hosted) this program, because it (exposed) more than 100 very bright high school students to our campus," Brooks said.