Men's soccer wins, hopeful for season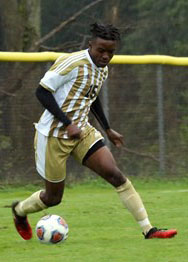 The Pitt-Johnstown men's soccer team won its 2019 opener at Penn State -New Kensington, 4-0, last Thursday.
"It was a good start to the season for us," head coach Eric Kinsey said.
  "It's always good to start off the year with a win. I was happy with our effort and our performance, especially in the second half.  We made some changes at halftime and that paid off for us.
"We're a better team this year than we were last year.  We were really young last season and didn't have a lot of depth on the roster.
"This year, we have 22 guys who can contribute in the games for us.
"They see the potential of what our team can be this year and I think that is motivating them to keep improving," Kinsey said.
Sophomore Patrick Ahmed got two goals in the opener and a shot on goal for a total three shots.
"I feel happy that we were able to get the win on the road and proud of the hard work everyone put in," Ahmed said.
"We just had to find others to get the ball to, and our attackers showed that we can get shots on goal, and I think we did a good job at that in the beginning of the second half.
"I just want to tell everyone to come out and support the guys," Ahmed said.
Sophomore Andrew Jeffrey was a three-year letterman during high school, and also is a short distance runner for the Pitt-Johnstown track and field team.
"Our 4-0 result was well-deserved. We were a better team on paper going into the game and proved it by the end of the game. 
"We have a lot to work on but put together a solid effort in our win.
"Our team goal for this season is to win games in the conference.
"We all expect this season to be tough, but I believe it'll be one of the best seasons," Jefferey said.