National champ can make history
At their season's conclusion, the Pitt-Johnstown wrestlers sent seven wrestlers to the National Tournament and placed sixth in the tournament March 9.
Head coach Pat Pecora won the National Wrestler Coaches Association's coach of the year award March 7.
"The All-Americans got eight to 10 hours (per week) on average of individual training for the National Tournament," Pecora said.
The seven qualifiers finished from team first to eighth in their weight classes in the tournament, and Chris Eddins, in the 149 pound class, was the team's sole national champion.
"If a wrestler got a national championship once we would say he is lucky. But he got it twice, so it's his talent potential and hard work over other wrestlers.
"I gave suggestions to the boys on their mental and physical training on the way to the National Tournament, " Pecora said.
Assistant coach Tyler Reinhart, who was a national champion in 2016, is one of the coaches who helps the wrestlers, including Eddins, with individual training.
"His consistency and hard work helped him get that. I know that he will run three miles a day to keep his shape and lungs for individual training," Reinhart said.
In addition to winning his second championship in the 149-pound class with a 7-2 victory over Tiffin's Trey Grine in 2019, Eddins claimed the championship in the 141-pound class in 2018.
"It's a great award for me and pays off my hard work during the last year," Eddins said.
According to Eddins, it's a busy time of the year for him because he and the other six qualifiers have to balance academics with wrestling, since the national tournament is close to midterm exams.
Eddins said he has a twice-daily training regimen, in addition to running three miles every day.
"I have a fast speed to create my own wrestling style and to build my way to win bouts.
"I hope that I can (someday) make history on the Mountain Cat team by winning a national championship three years in a row," Eddins said.
One of the other six qualifiers, redshirt freshman Brock Biddle placed fourth in the tournament in the 184-pound weight class.
"The atmosphere on the wrestling pushes me to set better,  but I felt a little bit nervous in Cleveland," Biddle said.
It was Biddle's first year wrestling, and after going undefeated in the conference, he qualified for the tournament.
Biddle said that, after the national tournament with his fourth place finish, he felt more confident, and that it's not that different from wrestling in the conference.
Biddle said he practiced two or three times a day leading up to the tournament.
"I'm so proud to be a part of the Mountain Cat team," Biddle said. "The successful program here makes me better.
"The fundamentals of wrestling are the same, but everyone has his own wrestling style built on that," Biddle said.
Biddle lost his first bout of the season in the Super Region I tournament Feb. 23 against Jeff Reimel of Kutztown University.
"He (Reimel) finished his wrestling career, now it's my turn to stand out and take his place."
About the Contributor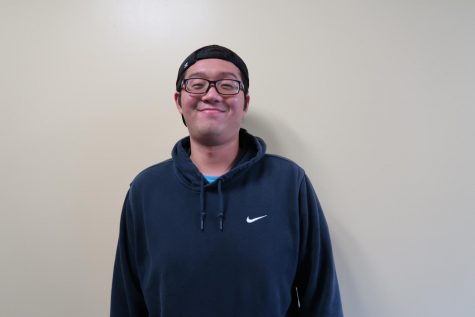 Yang Chen, News Editor

Graduated High School: 2011, Kaifeng Twenty-Fifth Middle School (Henan, China)
Year: Junior
Anticipated Graduation Date: April 2021
Major:...