Wrestling first again, 4 years now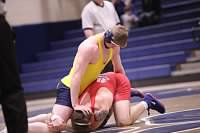 The Pitt-Johnstown wrestlers are preparing for postseason tournaments.  They've qualified thanks to a successful regular season campaign, going 6-1 in the conference and 16-3 overall. 
Wrestling head coach Pat Pecora said the strong record felt fantastic.
"It's like I say; every team runs its own race, and we ran a good race for dual-meet season."
According to Pecora, the strong record is especially satisfying since the wrestlers competed against 12 teams that were ranked, and they never had their full starting lineup. 
"Someone was always hurt. (There were times when) we had three, four starters out of the (staring) lineup. (We've) won our fourth straight dual-meet (conference) championship. It took the whole team to do this," Pecora said.  
Pecora said that the focus is now on the postseason, more specifically the regional and national tournaments. 
"We're sharpening the saw," Pecora said. 
According to Pecora, the wrestlers have two separate practice types. The system practice, which they all do, and and the individual practice. 
Pecora said that for the individual practice, the wrestlers will meet with one of the assistant coaches, and they help in addressing each wrestler's strengths and weaknesses. 
"I hope that we can qualify as many as we can for the NCAA tournament.
"I don't want to set up limits for wrestlers," Pecora said.
Sophomore wrestler Brock Biddle, who had a breakout season by losing only one bout in 22 attempts, said that the individualized workouts help him address his game. 
"The specialized practices have been helping me. Tyler Reinhart and Cody Law are the coaches who I'm working with. My weakest position is on my feet, and the coaches are helping me improve. My biggest strength is my tilts on top," Biddle said. 
Biddle, much like his coach, said that he was happy with the 16 victories; however, he said he sees the three losses as a disappointing blemish. 
"I feel I contributed to the success of the team, but everyone on our team contributes. We wouldn't have been able to win just with the starters. Everyone is at practice to make your partners better," Biddle said. 
The wrestlers may see the fruits of their labor come to fruition Feb. 23 at the Super Region I Tournament in Erie. 
Assistant coach Tyler Reinhart, an individual coach for Biddle, said Biddle is a hard worker.
Another wrestler, sophomore Chris Eddins, gets individual training by Reinhart.
"Chris is above his weight class, and he is improving in everything. 
"I hope (Eddins) could be a champion again.
"They will get individual training around 30 minutes to one hour once or twice every week. Eddins is running after training for his lungs and shape.
"Individual training is good help for one-to-one, and will improve more for wrestlers," Reinhart said.
"I'm running three miles every day after training," Eddins said.
"I will spend four hours on wrestling training every day for the coming NCAA tournament. 
"I'm in the second position for average points, scoring 4.5 points per bout. The first position is 4.7 points every bout.