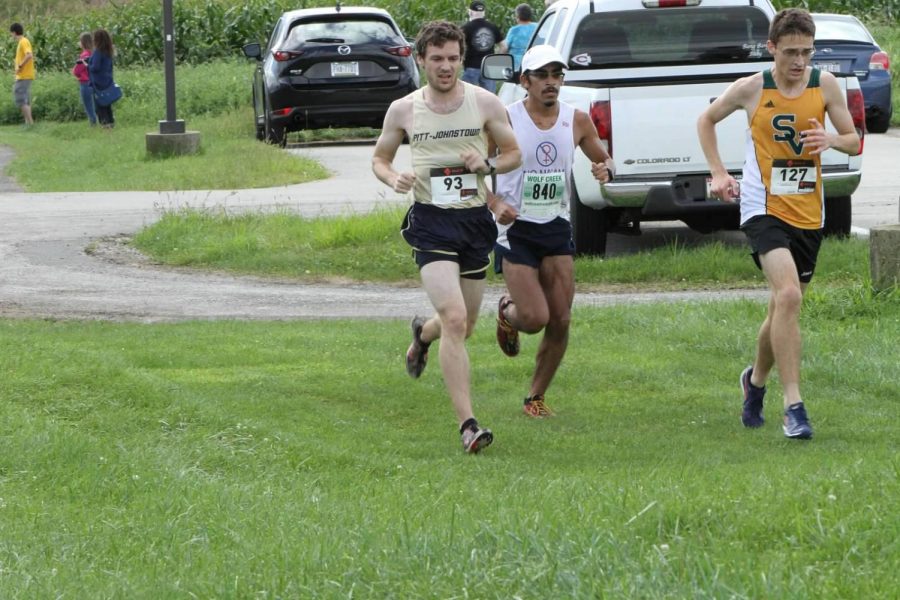 Ali Single
The Pitt-Johnstown men's cross country team is off to a good start like the women's team, as they have won second place in both of their events to start the season.
Senior runner Luca Pugliano said that the team's start was better than he expected, and that he is excited to see what this means for the season. 
"We have never started as well as we have this season since the program started in 2013," Pugliano said. 
One reason for the team's good start has been because of Stanford University transfer Connor Harriman. He placed eighth in the first race and second in the second one, and was the highest-ranked finisher from Pitt-Johnstown. 
"I hope that I will continue to place well to help the team, but also that I can help the other runners in workouts and races to make sure that the team is as successful as possible," Harriman said. 
Multiple runners on the team have said developing the younger runners is important for the team's future, as six out of the 11 runners on the team are freshmen.
"I want to pour into these guys while I'm still here. 
They are the future of this program and I want to see them succeed," Pugliano said. "We have had some growing pains, but they want to work hard." 
Despite the high placement of the team, multiple freshmen said that they want to see themselves improving. 
Freshman runner Joseph Dang said he wants to push himself during the workouts and his teammates. 
According to Dang, he has a lot to learn from the older runners, but has faith that he will as the season goes on. 
Another freshman runner sharing the desire to push himself was David Soltesz. 
"Last race, I placed 65th out of 95 guys, and I was the sixth Pitt-Johnstown guy to finish. There's always room for improvement, and I'm looking to keep getting better," Soltesz said. 
According to Soltesz, he isn't used to running distances longer than 5 km (3.11 miles). 
Both of the races that the men's team has competed in at have been longer than 5 km, with the St. Francis Invitational being 6.6 km and the St. Vincent Invitational being 8 km. 
According to Harriman, although the good start is nice, there is much more of the season to go. 
"We have two second-place team finishes, but those are really just warm-ups for the later season meets. We know that the meets will continue to get larger and more competitive throughout the fall," Harriman said. 
"The fact that we are doing well now is promising, but we still need to continue to improve."
This sentiment was summarized by Dang. 
"As the leaves fall, so do our times." 
The men's team will get a chance to show its improvement when the team goes to Pittsburgh on Oct. 6 for the Carnegie Mellon University Invitational.