Accommodations are common for athletes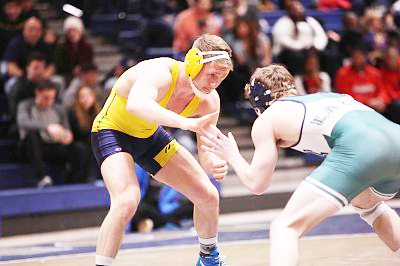 When their season takes off, most of the wrestling team's matches are on weekends, or evenings, so not many classes would have to be missed for an away match.
According to senior Cody Law, he has not missed many classes in his four years as a wrestler.
"When I do, my professors have been pretty understanding."
To avoid conflict with his professors, Law said that communication is the most important thing to do.
According to Law, when an athlete speaks with their professors throughout the semesters, the professors are more likely to be more helpful and accepting to an athlete's schedule.
"I have never had a professor who minded me missing for athletics."
"I always let my professors know beforehand if I am going to miss."
"(Social Sciences Division Chair Ray) Wrabley usually sends all of my professors and email to let them know as well."
If an exam is scheduled the day that Law is going to miss that class, he said that he communicates with his professors to come up with a solution.
Without losing points, or lowering a grade, Law said that his professors work well with him when  missing exams.
Becuase of Wrabley, Law said Pecora has never had to get involved in any  conflict about his athletic schedule.
"I have never really heard of a time where a professor was not cool about someone missing for an athletic reason, and that is probably because of Wrabley."
Pitt-Johnstown professors seem to help athletes out when they miss class for an athletic event.
According to sophomore wrestler Levi Niebaur, one professor in particular has been helpful to him.
"Whenever I have a wrestling match coming up, I always tell my professors ahead of time that I am going to be missing a certain day of their class.
"They all are always understanding and willing to help," said Niebaur.
According to Law, Criminal Justice professor Julie Wagner has always been a great helper for him  when he has had to miss.
According to Niebaur, when he knows that he will be missing an important day of class, no professor had an issue.
"My professors usually are helpful with moving exams around to help in my favor," said Niebaur.
"I have had professors that are not willing, but, after communication, they are more than willing to help," said Niebaur.
"Talking with my professors has always been a top priority, and I always focus on that before I even start my season."
The Pitt-Johnstown professors were surprising to Niebaur.
"When I first had to address the conflict, I was surprised at how understanding my professors were," said Niebaur.
"I guess it is just another thing that makes Pitt-Johnstown so great, academic faculty members still work with the athletes, it is amazing."
Being a sport that is just as busy as wrestling and at the same time, women's basketball players miss classes during their season in the winter.
According to women's basketball junior guard Victoria Moreland, she has missed less than five days of classes this semester.
"As of now, I have only had to miss two or three days of class," said Moreland.
With her missing classes, Moreland said that she thought her professors would have had an issue with her.
"They don't have a problem with it as long as I get my notes from a classmate," said Moreland.