Seven wrestlers are to advance nationally
Last Saturday, Pitt-Johnstown senior wrestler Cody Law and six other members of the wrestling team qualified for the Division 2 national wrestling tournament at the regional tournament.
Law, who won first in his weight class at regionals, said that it felt great to win his last regionals at home.
In the final bout for his weight class, Law defeated Notre Dame (Ohio) wrestler Fernie Silva 16-4.
I think being at home helped so much. It was like having a home field advantage. It was an awesome experience overall," Law said.
Law is ranked No. 1 nationally in his weight class.
The Notre Dame wrestlers are the defending Division 2 national champions, and went on to win regionals, with a score of 133.5. Notre Dame is nationally ranked No. 2.
Pitt-Johnstown wrestlers came in second place, with a score of 115.5.
Wrestling coach Pat Pecora said that it was a good tournament.
Like the Pitt-Johnstown wresters, Notre Dame wrestlers also sent seven to nationals.
"Our guys did a good job. We're in a tough region, and overall, I'm happy. If you told me before the tournament that seven of the 10 weight classes would go onto nationals, I'd take that," Pecora said.
Last season, the Pitt-Johnstown wrestlers sent five to nationals.
The additional six wrestlers accompanying Law to nationals are second place finishers: sophomore Chris Eddins, sophomore Devon Austin and junior Steve Edwards.
Along with them are two additional second place finishers, sophomore Levi Niebauer and senior D.J. Sims. Junior Corey Falleroni finished fourth in his weight class and is also competing.
Pecora said that he agreed with Law on hosting the tournament.
"It's always nice to host it for the guys, so that way they can be with their families more; I think it helps," Pecora said.
Pecora said that he hopes to host the tournament once every four years, so every wrestler can experience a home tournament.
Pecora said hosting the regionals can be a lot of work, but called it a first-class tournament.
According to Pecora, he was equally focused on getting as many wrestlers to nationals as possible, along with winning the regional for his team.
"Can't do one without the other," Pecora said.
For Law and six of his teammates, the wrestling season goes on to Cedar Rapids, Iowa, where they will compete nationally on March 9 to 10.
About the Writer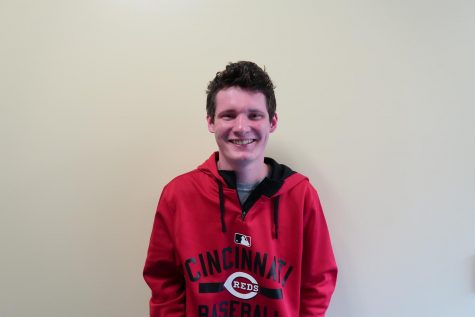 Justin Schmithorst, Opinions Editor

Graduated High School: 2015, Fox Chapel Area High School (Pittsburgh)
Year: Senior
Anticipated graduation date: April 2020
Major: Journalism
...