Wrestlers defeat conference's best
Hang on for a minute...we're trying to find some more stories you might like.
On Friday, the Pitt-Johnstown wrestlers won their third consecutive Pennsylvania State Athletic Conference championship. They handed Mercyhurst their first loss of the season, with a score of 32-10.
According to Wrestling coach Pat Pecora, the team wanted to be more than better.
"The theme tonight was that we didn't just want to be better than them, we wanted to be tougher, and that's what I saw tonight, us being tougher," Pecora said.
Pecora also said that he was impressed with the team to come back after the team lost one of its best wrestlers, senior Tyler Reinhart, for the season due to injury.
"I'm proud of these guys. How many teams can come back and win the conference after losing their national champ (Reinhart)?" Pecora said.
Senior wrestler Cody Law, in his last bout at the Sports Center, said he had similar feelings.
"It feels extra special this year, because I feel like our team really came together and wrestled so tough, I loved it.
"The whole night was just something I'm very grateful for," Law said.
Despite the ending score being a convincing Pitt-Johnstown victory, early in the match, Pitt-Johnstown was trailing 6-3 after senior Sam Holandez was pinned, losing six points to Mercyhurst.
Pecora said that he wasn't mad that Holandez lost.
"I don't get mad when guys get overly aggressive. Everybody knew after that we're coming back, we'll just keep coming, and it'll pay off. We got burned on that one, but the next one we'll get them," Pecora said.
Right after Holandez's bout, that's when sophomore Chris Eddins stepped up.
In his bout, Eddins ended up going 4-0 within the first minute and won 8-0. His victory put Pitt-Johnstown wrestlers up 7-6.
Before the bout, Eddins said that he wanted to strike early.
"So I know that in this match, I need to open up and take the match to him, or he can stay close in points. I need to get bonus points in this match for the team," Eddins said.
Acording to Eddins, his victory had other benefits, too.
"It was nice to get the momentum back in the gym when I scored those first four points. The crowd was pretty quiet after Holandez's match, so getting those quick points and getting the crowd invested again was really nice," Eddins said.
Eddins also said it's not the first time he's had to do this.
"It's not the first time I've had to bring the team back around, and I think it's a responsibility that I like to bear," Eddins said.
The team would not lose the lead for the rest of the match. The wrestlers outscored Mercyhurst 25-4 afterward.
Soon after Eddins, Law had his bout. He added six points to the lead, putting Pitt-Johnstown up 16-6.
Law didn't just defeat his opponent in his bout, he pinned him, getting the fall for his team.
"It was great to be able to get the fall. I was telling myself all night that I was gonna get the fall for my team, and I was able to, so yeah, it felt awesome," Law said.
Law wasn't the only one who said he was proud.
"It was really nice to see the seniors excel in their match, and have their last duel match be to win the conference. It is one of the best nights that anyone could go out on," Eddins said.
After the match, with some members of the crowd on the floor, Pecora gathered all of the wrestlers into a huddle.
They broke their huddle by saying "Brothers for Life," the team motto.
Eddins had some words for how that has been represented throughout the year.
"'Brothers for Life' has been shown throughout the year by the team, because we all have our ups and downs, but no matter what we support each other and push each other to get better," Eddins said.
Soon after, the wrestlers began hugging and congratulating each other.
According to Pecora, this was representative of the wrestling program.
"I was proud for the alumni, they were coming down here and saying 'Man, that's Pitt-Johnstown wrestling.' So, that's Pitt-Johnstown wrestling, you saw it at its peak," Pecora said.

About the Contributor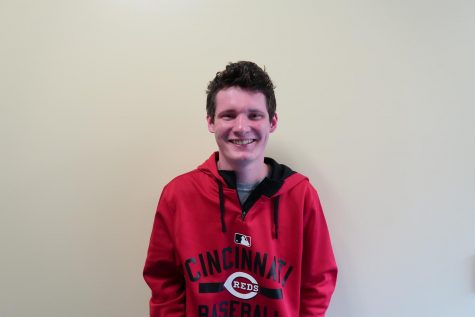 Justin Schmithorst, Opinions Editor

Graduated High School: 2015, Fox Chapel Area High School (Pittsburgh)
Year: Senior
Anticipated graduation date: April 2020
Major: Journalism
...