Athletes are brothers
In the wrestling room on a frigid January evening, Pitt-Johnstownsophomore wrestlers Chris Eddins and Levi Niebauer joked with one another as their daily two-hour practice ended.
"This guy doesn't know anything," Eddins said with a smile and chuckle. "He was my roommate, so I'd know."
Niebauer took the joke with a smile, but before he could reply, Eddins interjected once more.
"I love this guy though. I'd do so much for him and we've been through a lot together," Eddins said.
Niebauer, looking like he was about to tackle Eddins one moment, softly remarked, "Me, too."
A third wrestler in the room, junior Steve Edwards, was smiling and watching his teammates mess around.
"Brothers for life" is the motto of the wrestling team. It has been since coach Pat Pecora took over in 1976 at the age of 22.
"I had no prior coaching experience before then. I coach like I was raised. I was raised close to my siblings, and that's how I saw the coaching wrestling was like. I didn't know how to do it any other way," Pecora said.
More than 40 years later, Pecora's motto is still a staple, and he said he tries to instill it into the wresters.
"We end every practice by saying 'Brothers for Life,'" Pecora said.
According to Pecora, wrestlers will get up at 6 a.m. and run or lift weights and make other teammates get up and do it with them.
Pecora also said what he wants out of his wrestlers.
"I don't just want to make them better wrestlers, but better people, husbands, and uncles. This is more than a job to me, it's a calling."
Eddins said that he will get up at 7 a.m.  He will also call or text his teammates, including Niebauer, to see whether they want to join him in a workout.
"The brothers for life motto makes you work harder, it makes me want to have people who can rely on me and I can rely on them," Eddins said.
Niebauer said that he agrees.
"We have fistfights during practice and forget about it during supper, Neibauer said. Coach (Pecora) pushes you to your limit, and we push each other, but we bond over it," he said.
Edwards said that the team does group workouts and studies together.
"I'm trying to do all of the right things, my brothers are counting on me. Training is tough and gritty, but if you're going to do something, do it right," Edwards said.
About the Contributor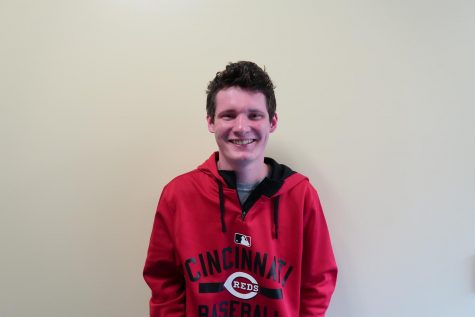 Justin Schmithorst, Opinions Editor

Graduated High School: 2015, Fox Chapel Area High School (Pittsburgh)
Year: Senior
Anticipated graduation date: April 2020
Major: Journalism
...