Students react to the NFL anthem protests
Students and student-athletes seem to have differing opinions on kneeling during the national anthem before NFL games.
Sophomore Brennan Brokaw said he didn't object to the protest.
"They can do what they want. It's fine," Brokaw said. "I respect other people's views, they can be against kneeling at the game, but they should respect those who support it."
Brokaw said that he would kneel.
"Our current political climate is not friendly toward minorities, so I would kneel," Brokaw said.
Senior Pitt-Johnstown student Rudy Gleixner also said he didn't object to the protests either.
"I don't see any problem with it because they're doing it to try and start a revolution, not to disrespect anybody. I haven't seen any of them do so."
Gleixner said that he wouldn't kneel.
"I personally would not, but I would support teammates that decide to," Gleixner said.   
Sophomore student Jacob Caruso also agreed with the view. "They want to protest, they can do it," Caruso said.
"(The) exercise is about civil rights. The original protest was about police brutality, not against the flag," Caruso said.
The issue of kneeling is a national subject since it began.
Kneeling during the anthem began during the 2016 NFL preseason, when San Francisco 49ers quarterback Colin Kaepernick knelt during a preseason game against the Green Bay Packers on Aug. 26, 2016.   
During the season, a number of players knelt. In week one alone, 11 players kneeled, per a CBS Sports article.
The protests have continued into the 2017 season.
On Sept. 22, President Donald Trump commented on the kneeling during the anthem, calling it disrespectful and saying that owners should fire players for kneeling, according to a CBS News article. Trump also encouraged fans to walk out as well.
On Sept. 24, the entire Pittsburgh Steelers team, except for left tackle Alejandro Villanueva, was in the locker room during the national anthem before a game against the Chicago Bears.
Villanueva served in the army as an Army Ranger and stood to be a "middle ground," according to the article.
On Oct. 8, Vice President Mike Pence walked out of an Indianapolis Colts game because players knelt during the anthem. Pence did not want to dignify the protests, according to a CNN article.
Interviewed student-athletes were more in agreement with the President's view of the kneeling being disrespectful.
Junior Pitt-Johnstown baseball player Danny Clark said that he thought the protests were disrespectful.
"I believe the players kneeling are very disrespectful to our flag and to the soldiers fighting for our country and for veterans that were killed in war to give us freedom," Clark said.
Clark said that he would not kneel for the anthem.
Clark is joined by Pitt-Johnstown junior softball player Ashley Shor and sophomore baseball player Devon Walker in his view against kneeling.
"I believe that everyone has their right to protest, but I don't think it's necessary to protest during the national anthem. If you want to exercise your rights, there's a more appropriate time and place for that," Shor said.
Walker said that he disagrees with the players kneeling, and that it shows disrespect to those who have served in the armed forces.
"I really don't agree with the fact that players are kneeling. I believe that it shows disrespect to those who have served this country. I believe this because of mygrandfather's opinion from him fighting in the Army," Walker said.
All of the student-athletes said that they haven't seen any of their teammates kneeling during the anthem.
Clark, Shor, and Gleixner said that, despite the kneeling, this does not affect their viewership of NFL games.
"It doesn't affect the quality of the game," Gleixner said.
Both Caruso and Brokaw said that they do not watch the NFL.
Clark said that he believes that the kneeling has drastically affected viewership.
"I believe it changed how I watch big time because who wants to go to an event or watch an event where  the players disrespect the flag? I know I wouldn't," Clark said.
Both Brokaw and Clark weighed in on different views of patriotism and exercising civil rights.  
"Without the freedom the soldiers and veterans gave us, then they wouldn't be able to play football. I believe it's unpatriotic and there are other ways to protest," Clark said.
About the Writer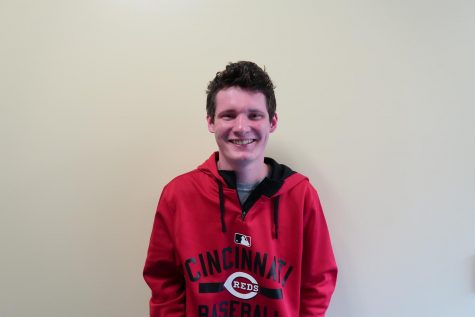 Justin Schmithorst, Opinions Editor

Graduated High School: 2015, Fox Chapel Area High School (Pittsburgh)
Year: Senior
Anticipated graduation date: April 2020
Major: Journalism
...