Donation helps get sports center floor
The Pitt-Johnstown Sports Center gym floor is to get a $211,500 renovation beginning Sept. 25, the project is to be carried out by S&S Flooring in Ambridge, Beaver County and is projected to be finished Oct. 14.
Vice President of Finance and Administration Amy Buxbaum said the surface replacement has been discussed for many years, even before she started working on campus six years ago.
"The project was included in our campus strategic plan in 2014 with a target completion of the 2018-2019 academic year.
The timeline was able to be accelerated due to the generosity of an alum who helped a fundraising effort to cover the costs of the project," Buxbaum said.
The new floor is to provide a better playing surface for Pitt-Johnstown's basketball and volleyball teams as well as for recreational users.
According to Student Affairs Vice President Shawn Brooks, there is a ceremony to mark the beginning of work on the floor 6 p.m. Sept. 29 during homecoming weekend, to allow alumni to get a look at the construction.
"This is a game-changer for the university because the rubber flooring we have now doesn't act the same as a wooden court does; most of our players and opponents just aren't accustomed to it," Brooks said.
Men's basketball senior forward Levi Masua said everyone loves playing on a wooden floor, whether due to health factors or style of play.
"I'm pretty sure 95 percent of the student athletes who use the court played on a wooden floor in high school.
"It'll be a huge boost with recruiting. The floor now makes us look outdated, so this will make us look like we are current and ready to compete.
"As a recruit, you want to go to the school which you feel gives you the best (chance) to succeed and take your game to a new level and having a wood floor will do just that," Masua said.
With a laugh, Masua said the other teams would talk trash on the rubber court Pitt-Johnstown has.
Athletic Director Pat Pecora said Pitt-Johnstown may be the last to have a rubber floor, and the excitement for the new floor is felt throughout the athletic department.
"The new flooring will be huge with recruiting for all sports because that's one of the first things a recruit sees when touring our campus and facilities. It's one of those tangible things an athlete chooses amoung when considering where to play," Pecora said.
"The Pitt-Johnstown Athletic Department, and our coaches and athletes, are extremely excited about the installation of the new wooden Sports Center floor," Pecora said.
Pecora said there are many people to thank for this project including President Jem Spectar and Buxbaum who was the driving force on the administrative end, and former Pitt-Johnstown men's basketball team member and Athletics Hall of Fame Inductee Rich Ragan, who graduated with the class of 1978.
About the Contributor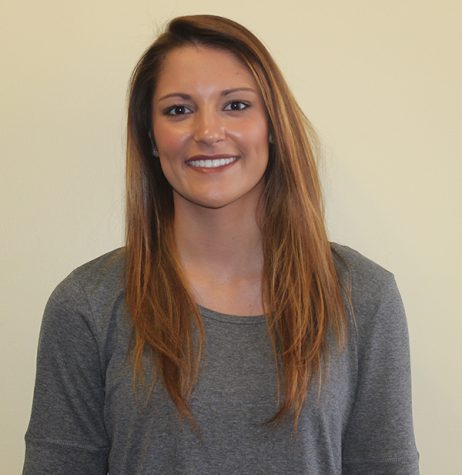 Sarah Francowic, Staff Writer

Graduated High School: 2014 Monessen High School (Monessen, Pa.)
Graduated: April 2018
Major(s)/Minor(s): Majors- Journalism and Multi Media...