Rugby players win only game in "tournament"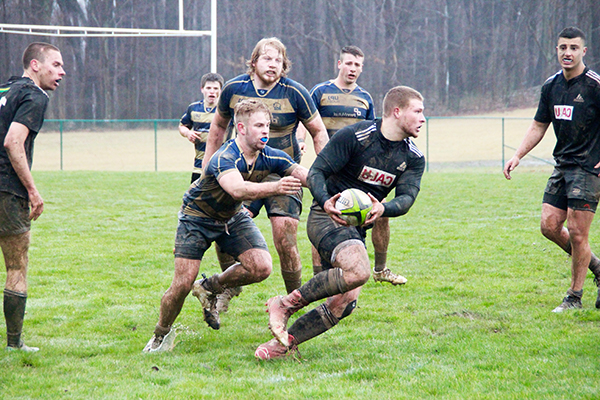 The Pitt-Johnstown rugby team picked up a 28-7 win in what was supposed to be the annual blood tournament against California University of Pennsylvania.
Players said two teams did not show up for the tournament. One no-show team was St. Francis University. The players could not identify the second no-show team.
The Thunder Cats continued their undefeated streak with the California win.
Senior fly half, Jake Bowser, kicked 4 for 4 in the conversions after trying to add points.
"For not practicing all week, we did well, given the conditions. We're not a bad squad", Bowser said.
The weather was cold and wet, which led to players, sprawled out on the field as they tackled. The mud made it hard to grasp players, and the ball.
"The weather had a big impact. The ball was slippery and muddy. It was definitely a struggle," said scrum half junior Grady Zagorac.
Sophomores Zeke Beatty and Matt Roland were the standouts of the game, according to Bowser.
"The younger guys have really stepped up this season," said Bowser. Since upperclassmen graduated, the team seemed to need extra help from the underclassmen.
Trys were scored by inside center (alumnus) Joe Gongloff, junior wing Matt Roland and sophomore wing Zeke Beatty.
Pitt-Johnstown's  Forest Tuttle was named man of the match.