Mountain Cat wrestler ends career on top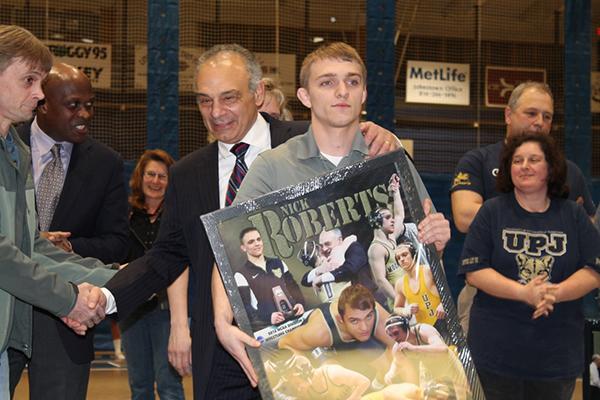 A collegiate career ended for senior Nick Roberts earlier than he had hoped, but he still was remembered and celebrated on Senior Night held on Feb. 7.
At 133-pounds, Roberts ended his junior season with a Super Region 1 Championship and a National Championship, also went 19-1 overall and 11-1 in dual meets.
According to Nick Roberts, whom was unable to wrestle due to injury, his time as a wrestler at Pitt-Johnstown was enjoyable.
"I had a team who supported me and a coach who made sure I was always happy and always doing the right things on and off the mat," said Roberts.
"I never was a part of a brotherhood on any of the teams I have wrestled for, but, at Pitt-Johnstown, I was, and it made it a lot more fun to go to practice every day when you're close with your teammates."
After Senior Night for every athlete, memories all rush together in the athletes' heads.
According to Roberts, he will miss a lot of the memories he and his team had made.
"I will miss little things, like driving homes on the bus and playing card games or mafia, and being goofballs with my teammates," said Roberts.
"I am going to miss working hard beside all of them, sweating, and bleeding and winning together," said Roberts.
"I am also going to miss wrestling dual meets with them, it was a fun team to have cheering for me; I will miss coach Pecora as well."
Coach Pat Pecora and Roberts became close because he was like a second father
After the big decision to transfer from Ohio State, Roberts said Pitt-Johnstown was one of the best decisions he made.
According to Roberts, the best thing about Pitt-Johnstown was Pecora.
"He turned me into a man with life," said Roberts.
Roberts said that Pecora turned him into more of a respectful man who tries to do the right things in life.
"Being under coach Pecora is going to make me a better father, husband and employee one day for a job," said Roberts.