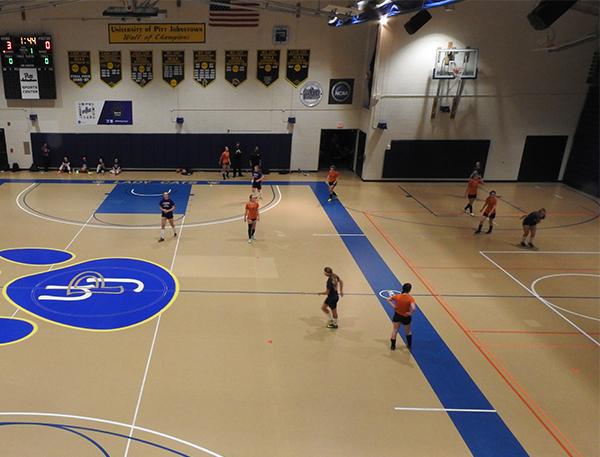 Cory Geer
On Jan. 5, 2011, Pitt-Johnstown officials opened the $9.7 million 40,000-square-foot Wellness Center, but they overlooked an update to the Sports Center floor where basketball and volleyball teams play.
Senior men's basketbll guard Jake Laravie said not having a wooden floor is a major difference.
"This year, it's been embarrassing since there are portions throughout the floor that are a different shades of color.
"Our assistant coach Pat Grubbs told me he called about 60 Division II schools earlier this year, and none of them have a floor like ours or have ever played another school that didn't have a wooden floor," Laravie said.
The Sports Center has a multipurpose floor. Construction with these floors start with a concrete  slab and then a top surface of modular polypropylene (plastic) squares snapped together in any shape or design.
The upkeep of multipurpose floors is usually easy, but once it becomes old like the one in the Sports Center, it is dangerously slick and hard on athlete's legs.
According to the LiveStrong website, playing on hard surfaces like multi-purpose floors can lead to patellar tendinitis (jumper's knee,) increased ankle sprains and knee sprains along with similar injuries familiar to football players competing on older-style artificial surfaces.
Junior men's basketball forward Levi Masua said he is not a fan of the floor and had heard similar complaints from his teammates, along with the women athletes on campus.
"My knees have been hurting lately. When I play on a wooden court, I have no pain, but I can tell the difference with the court we have," Masua said.
Another Pitt-Johnstown athlete said he overheard that there could be possibly a wooden floor by next year.
"The final cost for it was $180,000, and it'd take approximately four weeks to finish; I just hope it actually happens," he said.
Pitt-Johnstown Athletic Director Pat Pecora said getting a wooden floor is his No. 1 priority.
"We are and have been looking into all possibilities and hope to be able to raise the necessary funds to accomplish this task," Pecora said.