Transfers are hoping to make impact on season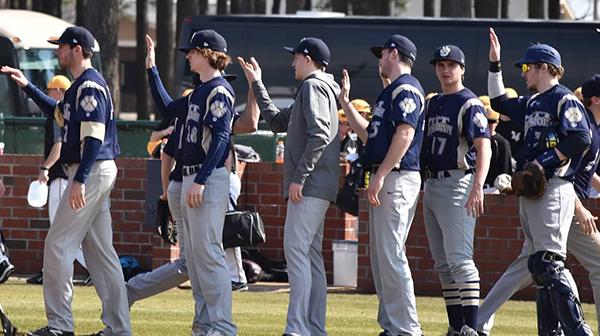 Pitt-Johnstown men's baseball team members have been practicing six days a week to prepare for their season opener Feb. 11 against Fairmont (W. Va.) State University in Mooresville, N.C.
Fairmont State last year had a record of 21-29. In the Mountain East Conference, they had an 11-21 record.
They returned their top two hitters from last years team: Austin Norman and Jacob Whitmore.
According to sophomore catcher Dylan Conrad, the team has changed from last year.
"We have got two really big Division I transfers, including Brett Hileman from Virginia Commonwealth University and Jack Shirk from Marist University (N.Y) ;
"They help out our team in major ways, we have also had pitchers from last year's team get a year older," said Conrad.
To prepare for February's games, the Mountain Cats have been doing all of the necessary drills to improve, according to Conrad.
"We are practicing hard as usual; but, off the field, we have partnered with Athletic Fitness to really get our bodies into the best playing shape we can be in."
With high goals, one struggle has been winning consistently.
"It is something we have struggled with the past two seasons, but, this year, our team seems different to anyone who is around us," said Conrad.
"An obstacle we need to get over is our pitchers and hitters," said Conrad.
"We need to have them show up every day to the ballpark and play complete games. The Pennsylvania State Athletics Conference tournament is in Johnstown this season, and we want to be there."
The nonconference games help the team come together in many ways.
Redshirt-junior infielder Luke Williams said that the games allow the team to finally play together after so many months off.
"It allows the new players to show the coaches what they have to offer in outside competition," said Williams.
Team members practice regularly indoors at the Iron Horse Complex in Windber.
"We have been hitting and fielding on a regular basis to benefit us on the field," said Williams.
With all of the work players put into their preseason, the biggest benefit they have is that the players have come together as a team, according to Williams.
"If we play as a team every day, we are going to be a dangerous team," said Williams.
The team has an outlook of being competitive, even among players  who have not been a member in the past.
Junior outfielder Brett Hileman said, by the sounds of his teammates, they are covered throughout different aspects of the game.
"I see the team being competitive this year," said Hileman.
"We are well-covered throughout the defensive aspect of the game, and all of our returning players have experience; that is what matters in college baseball, at any level."
The Mountain Cats' first home game is scheduled for March 8.