3 coaches have stayed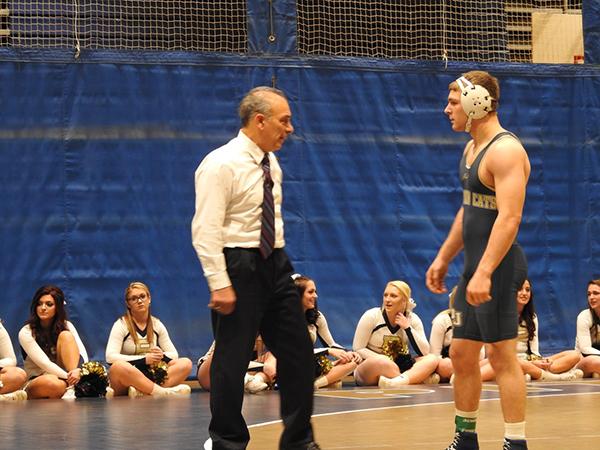 On a January day, Pat Pecora's office is decorated with trophies and pictures of the wrestling program's achievements.
Pecora was named the head coach of Pitt-Johnstown's Wrestling program in 1976 and has guided it to two Division II national championships and had 10 top-five finishes.
The other two coaches who have served long years are Bob Rukavina, who took over Pitt-Johnstown's basketball program in 1989, and baseball coach Todd Williams, who took over as head coach in 1998.
All three coaches have had winning records.
Pecora's record is 555-140-5, for a 79.3 win percentage. In the Pennsylvania State Athletic Conference, Pecora has the most wins amongst current Wrestling head coaches. No other wrestling coach in the conference has been coaching as long as Pecora has.
For the 27 years that Rukavina has been at the helm of Mountain Cats' men's basketball program, Rukavina has amassed  435 wins and 308 losses. This includes 17 winning seasons. When Rukavina took over, the basketball program had only four winning seasons.
Williams, has posted, through 19 seasons, a 449-408-4 record. His first 20-win season, in 1999, was the first time that the Mountain Cat baseball team had that many wins since Williams played on the team in 1982.
No other school in the conference currently has three coaches in baseball, wrestling, and men's basketball coach for twenty seasons or more.
"A lot of people (the staff) have been here for a while. The university, the community of Richland Township, and the students make it a desirable place to work. You feel like you're a part of something bigger than yourself," Pecora said.
Pecora, despite not being the athletic director responsible for hiring both Williams and Rukavina, said that he wants to continue to advance the other athletic programs, and as Athletic Director Pecora considers it one of his biggest responsibilities.
"We've been adding scholarships to other sports and have been helping out other teams like the track team," said Pecora.
Pecora said when looking for coaches, he looked  for the coach who can embody the program, .
There are three main categories that he looks for, and those are athletic, academic, and service.
Pecora emphasized the importance of, community service, as a very important part of a coaching job. He stressed the importance of giving back to the community, and encouraging student athletes to do so.
Pecora said  he never fired a coach that he hired, but has had to fire some from previous administrations
Pecora described one of his ultimate goals as making an experience at Pitt-Johnstown a positive one for the athletes.
He said his 40-year experience as the wrestling coach as being one that grew with him.