Students defeat staff in match for donations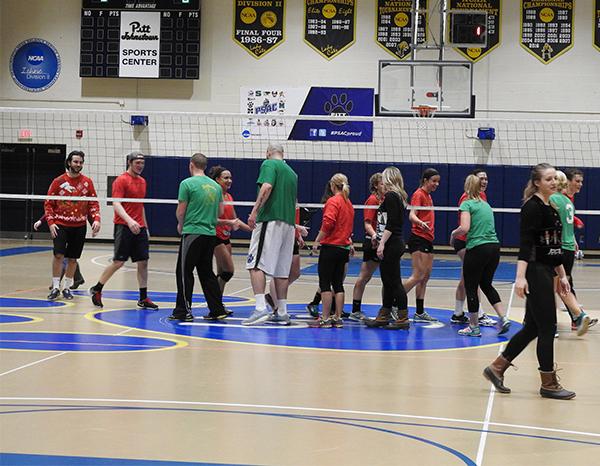 Thursday night at the Pitt-Johnstown Sports Center, Student Athletic Advisory Committee members hosted their third annual student versus staff volleyball game.
The students defeated the staff 2-1.
As an enhancement to the game, fans were encouraged to wear ugly holiday sweaters.
Also this year, committee members asked students to donate non-perishable food items to the game.
Katrin Wolfe, student athletic advisory committee adviser and assistant athletic director said this is the first year they have asked students to donate food items.
"In the past we have tied this to our Make-A Wish campaign. .… (This year) we tied it into a holiday theme and decided to donate the food to a local food bank," said Wolfe.
Student Athletic Advisory Committee member Brad Coleman said he is happy to help the local community.
"I'm happy that we can make a difference in Johnstown's community and help people in need around the holiday season," said Coleman.
Student Athletic Advisory Committee President Ellen Brady said she hopes this turns into an annual event.
Scott Thompson, a catcher on the baseball team, said he enjoyed playing in the student versus staff volleyball game.
"It was fun to play in a game that benefitted the Johnstown community. As an athlete at school, most of our days are spent training and getting better. It was nice to take a break and just have some fun," Thompson said.