Lacrosse gets new legs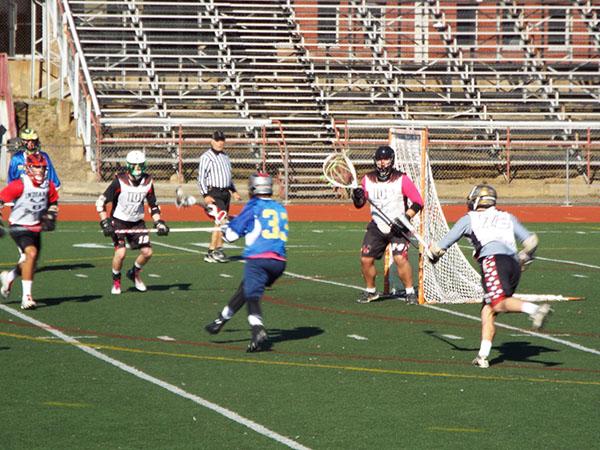 The Pitt-Johnstown men's lacrosse team has benefitted from the number of new players who join every year.
Coach Alan Teich said that he likes that he gets talented players to join the team every year.
"We have about a dozen new, talented players. I have been lucky," Teich said.
"Over the past 11 years that I have been doing this, I always seem to get guys with great talent."
The team has 30 players, including 12 freshmen.
The team practices at the American Youth Soccer Organization fields by a Metropolitan Life building along Schoolhouse Road.
Teich said he does not mind practicing off campus, since a specific field was not assigned to the team, whose players work with what they have.
"We are very mindful of safety for people around us," Teich said.
"We don't want to hurt anyone with a lacrosse ball."
According to Teich, with the team's season starting in the spring, players are not able to practice as much now, but still get enough conditioning and practice done in the fall.
"During practice, we are using stick skills and learning about each other in terms of how we play," Teich said.
"There can be a lot of non-verbal communication in addition to the very loud communication that needs to be learned and practiced."
To prepare for their season, team members are practicing on their own.
"Right now, some of the guys are getting together, throwing the ball around, thinking of plays," Teich said.
"Once we have cleared all of our requirements from the school, we will begin formal practices."
According to sophomore lacrosse player Jake Apicella, the team practices about four days a week.
"As a team, we are looking pretty good so far. We expect to have a positive record this year like we did last year," said Apicella.
The number of freshmen who have joined the team adds to the teams' depth in their defense, midfield and attack positions, Apicella said.
"The new players have helped us a lot with always having fresh feet on the field," Apicella said.
Apicella said that they are simply looking to overcome numbers this season.
"One goal is getting more guys to show up to the games unlike last year when we would only have a few substitutes," Apicella said.
"This year, we have a lot more guys and shouldn't have a problem with that, though."