Mountain Cats focus on defense, shots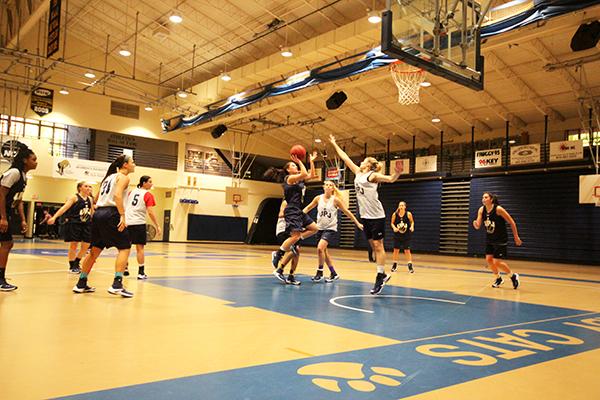 The Pitt-Johnstown men's basketball team has a new approach and new players to help their preseason preparations this year.
To prepare for games, the Mountain Cats spend a lot of time on defensive drills.
Senior A.J. Leahey said the team has been improving every day.
"By spending time practicing different drills constantly, we are hoping to improve our defense every day," said Leahey.
Besides defensive practice, the Mountain Cats work hard on other aspects of their game, according to Leahey.
"One thing we need to work, on more is rebounding during our games," said Leahey.
"Seeing as we have a smaller team this year, it needs more work and we need to attack more."
Leahey said the team's goals are to reach the conference playoffs and the NCAA tournament.
Head Coach Bob Rukavina said the team and coaching staff are excited about incoming freshmen.
"Each freshman brings a certain skill … that will be a great addition to our returning roster. We are very anxious to see their development over the next four years," Rukavina said.
The Pitt-Johnstown men's basketball team has added three players for the 2016-17 season, including local stand-out 6-foot guard Ray Hinton from Ferndale Area High School.
Along with Western Pennsylvania Interscholastic Athletic League standouts 6-foot, 8 inches forward/center Adam Kline from Central Valley High School, Monaca, Beaver County and 5 foot, 11 inches guard Eddie Flohr from Chartiers Valley High School, Pittsburgh.
Flohr said the change from high school to college is noticeable on the court.
"Its a big change, physically and mentally; the pace in college ball is a lot more up and down the court," Flohr said.
According to redshirt freshman guard Josh Wise, the freshmen are good on offense and should help out the team a lot.
Even though he was here last year, Wise said he has noticed a difference because of his knowledge.
"This year is a little easier," said Wise.
"I know what to expect from everyone, and I know how we all play."
Besides defense and rebounding drills, the Mountain Cats are working on shooting.
"For the guards, we are focusing on getting a lot of shots up, and we are working on coming off screens and attacking at the baskets," said Wise.
"But, we need to be able to finish games in order to make a deep playoff run."
The Mountain Cats are to travel Nov. 5 to the University of Pittsburgh to play against the Pittsburgh Panthers at the Peterson Events Center.
According Leahey, competing against the Panthers will be a great opportunity for the team.
"It will be exciting," said Leahey.
Pitt-Johnstown tips-off the season at the Indiana University of Pennsylvania Atlantic Region Challenge Nov. 11-12.
The Mountain Cats return home Nov. 16  to host a non-conference game against Carlow University at 7 p.m. in the Sports Center.
The Mountain Cats start conference play on the road Nov. 16 at Bloomsburg University and Nov. 20 at East Stroudsburg University Nov. 20.