Bats continue, pitching urgent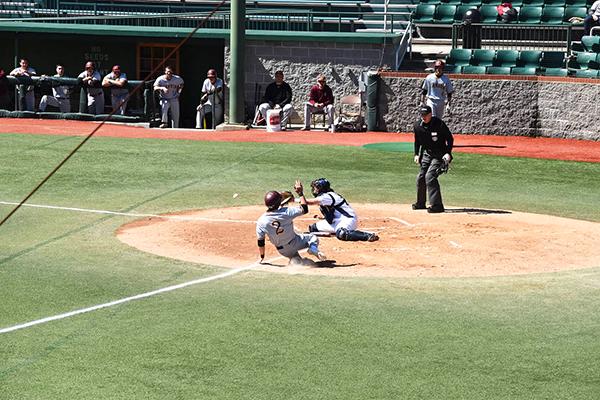 The Pitt-Johnstown baseball team traveled to Mount Aloysius College Oct. 1 for their only scrimmage of the fall season.
Offensively, the Mountain Cats picked up where they left off last year, scoring a combined 29 runs in a doubleheader.
Last year, the Mountain Cats' offense was  sixth in the conference in runs, averaging over seven runs per game.
Senior third baseman Joe Gagliardi said the offense can still produce like he did last year.
"Even though we lost some great hitters from last season, I feel that our offense can still produce. We have two transfers who will add to the offense and everyone who is back has looked great swinging the bat."
The two transfers are Brett Hileman, Virginia Commonwealth University, and Jack Shirk, Marist College, Poughkeepsie, N.Y.
Gagliardi said he believes that the team can build off the scrimmage results to propel them to a successful season.
"The team has really put in a lot of work during and outside of practice, which is what it takes to win games. The work we put in now will hopefully lead to a successful winter and lots of wins in the spring."
The weak link in last year's team was pitching. The Mountain Cats had a team earned-run average of 9.47 last in the Pennsylvania State Athletic Conference.
Senior pitcher Ty Black said he wants that to change this year.
"Overall the (pitching staff) has a harder working atmosphere at practice and lifting. Everyone has experience coming in, and we have to pull through the long haul," Black said.
Experience is a bright spot for the pitching staff that graduated only one senior.
Ben Foose, a sophomore pitcher said last year's experience could help him and the pitching staff this year.
"Last year helped a lot, being able to see the competition and learning how to pitch. I couldn't get by with just my stuff anymore. You had to pitch down and hit your spots," Foose said.
A wildcard to the staff, according to Black, could be freshman Brady Walker.
"Brady Walker is a great new addition who will (pitch) a lot of innings for us," Black said.
Walker had his first taste of collegiate baseball during the scrimmage and said it's good to get the nerves out of the way.
"Getting my first start out of the way was very important; it helped gauge the talent I was going to see in college," Walker said.
Walker threw three shutout innings against Mount Aloysius, giving up zero hits and striking out four.
With the season not starting for four more months,Black and Gagliardi said the team is working harder than ever in the weight room, and both expect that the work they have put in will create the result they need in the spring.
On all good teams, team chemistry is important, and Devon Walker said this year, the Mountain Cats have just that.
"The team this year is working hard as one unit, with one goal in mind: reaching the Pennsylvania State Athletic Conference Tournament," he said.
The team will wrap up fall practice on Oct. 19 featuring their 100 Inning game to raise money for the team. After that, it's all about getting in the gym and getting bigger, faster and stronger.