Men's soccer finally ends losing streak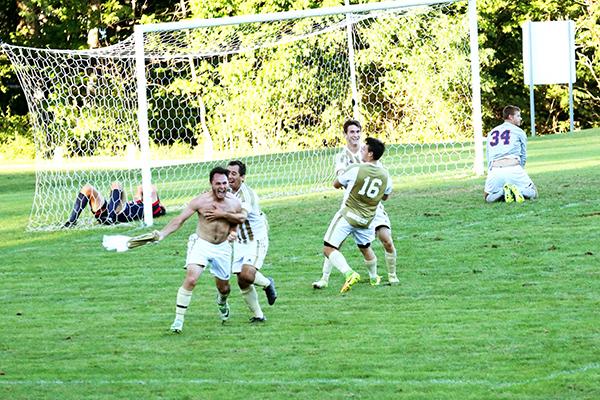 The Pitt-Johnstown Men's soccer team won their first ever Pennsylvania State Athletic Conference game Sept. 12 since joining the conference in 2013.
The Mountain Cats took the lead just over a minute into the game with help from Shippensburg University.
The ball was played back to Shippensburg red-shirt freshman goalie Garret Watson but got past him and found the back of the net putting the Mountain Cats up 1-0.
Pitt-Johnstown junior goalkeeper Nate Kleya played strong in net facing 33 shots, making 15 saves and letting up one lone goal.
"I was trying to stay focused on what was happening on the field and wanted to make sure I did my job to help the team win."
"Once we scored, everything hit me, and I just wanted to get down the field and celebrate with the guys," Kleya said.
The Mountain Cats held the lead for the first half, but with just under seven minutes left in regulation time, Shippensburg sophomore midfielder Patrick Luebben's header got past Mountain Cat goalkeeper Kleya to tie the game 1-1.
Pitt-Johnstown redshirt sophomore midfielder Colin Michalski, scored the game-winning goal on a rebound from sophomore forward Haven Mackie in the box in the 102nd minute in double overtime.
"I've never seen the whole team so happy, I'm glad that we all got to celebrate together; it's a moment none of us will ever forget," Michalski said.
Junior forward Colton Myers was among the men on the field when the game winning goal hit the back of the net.
"Watching the ball fly past the keeper and into the net was the best feeling in the world; our hard work paid off."
"Our intensity throughout the game never faded away; we gave it our all and pushed our bodies to the limit…we battled the entire game; no team will outwork us or have more heart than what this group has," Myers said.
Kleya said there's a huge energy buzzing through the team, and they are moving forward positively going into the rest of the season.
"After getting a sweet taste of victory, we are hungrier than ever to get more wins and will do whatever it takes to achieve more success," Myers added.
The men's soccer team is now 1-3 overall and 1-2 in conference play.
The Mountain Cats begin a seven-game stretch on the road with conference games against Seton Hill University, Mercyhurst University and Lock Haven University. A game at Millersville University also is part of the road trip.
Non-conference games over the stretch include Shepherd University and Washington Adventist University in Takoma Park, Md.
The Mountain Cats suffered a 1-4 loss against Wheeling (W.Va.) Jesuit University on the road in a non-conference game Sept. 17.