Soccer players lack the bare necessities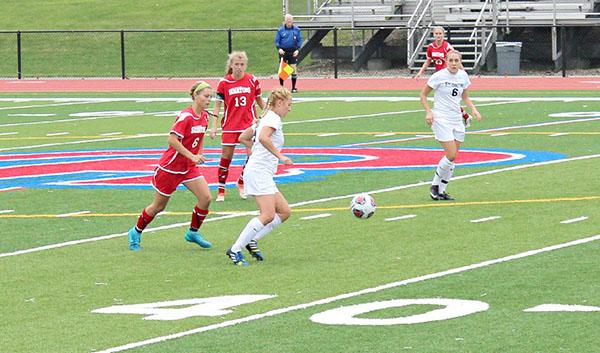 Cory Geer, Contributing Writer
September 14, 2016
The Pitt-Johnstown men's and women's soccer teams have been struggling the past three years.
Both programs have yet to win a conference game since joining the Pennsylvania State Athletic Conference.
Since joining the PSAC in 2013, the men's soccer team is 4-51, and 0-35 in conference play.
The women's team is 1-54-1 overall and 0-50-1 in conference play.
Junior defenseman Greg Armbrust said he isn't letting the past three years affect this year's team.
"We really want to strive to be .500 on the year in conference. We are working really hard to improve each and every day,"Armbrust said.
Armbrust said Pitt-Johnstown fields do not compare well with competitors'.
"Our practice field is all grass, it's poorly maintained and is an injury waiting to happen. After it rains, it seems like it's muddy and soft. It can be impossible to play one touch at times. It really affects what we can do at practice."
Armbrust said game-day differences are apparent.
"We are the only team that plays all of our teams on grass. When we go to other universities in the (conference), we get to play at their football fields which are turfed," Armbrust said.
Women's outside back, sophomore Paige Torchio, echoed Armbrust's comments on fields and locker rooms.
"The UPJ facilities don't compare with other (conference) schools. We are one of the only schools without turf or a renovated locker room. Other (conference) schools seem to put more money into sports than we do here at UPJ," Torchio said.
The toughest issue both programs face is going up against experienced international student-athletes. Armbrust said their opponents are more experienced, too.
Armbrust said, "the biggest issue we face is going up against 23 or 24-year-olds who grew up in Europe, who went to professional academies and have had training. Our recruiting base is mainly from the Pennsylvania and Maryland area."
Torchio also has marked on the international component among opponents, "international players add a lot to a team. I think they bring a different mindset that can be positive."
Two of the biggest proponents of doing this on the mens' side are Gannon and Mercyhurst.  Gannon has 20 international students and Mercyhurst has 23. Mercyhurst over the past three years has gone a combined (29-3-1) in the PSAC.
On the womens' side, Gannon, who won the regular-season PSAC championship, had five international-student-athletes.
The men's team has six more home games left on the year. The women's  team has eight more games remaining on the Pitt-Johnstown campus.