All-Star Icecats battle for European games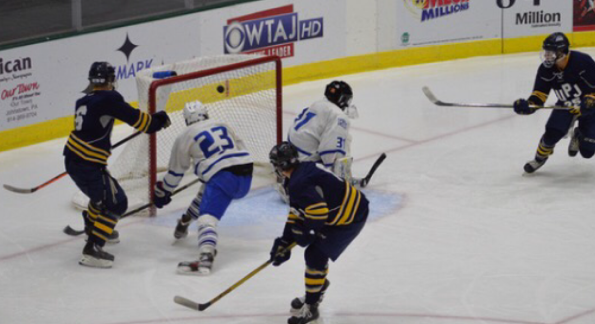 For several of Pitt-Johnstown's club ice hockey team members, the season isn't over just yet.
Eight players have been named to the 2016 American Collegiate Hockey Association Division III All-Star Challenge, which is set to take place April 1-3 in West Chester at the Ice Line Quad Rinks.
The challenge is to consist of pool play with two pools made up of five teams each. Each team represents a conference in Division III, with the players from each team coming from the schools within the conference.
Each team is to play five games in three days, two on both April 1 and April 2, with the final round of pool play to take place April 3.
"Hockey's intensity comes from the rivalries, but since we are going to be competing against other rivals from different leagues, we will band together and compete," junior forward Marc Swankler said.
"Personal vendettas will be set aside because we all have the same goal of being the best (conference in Division III)."
Swankler produced 10 goals and eight assists in 17 games, according to the Pitt-Johnstown Icecat website.
He is to be accompanied by fellow junior forwards Luke Reed and Cody Austad, along with junior defenseman Dan Yost, sophomore defenseman Tyler Shima and sophomore forwards Hunter Grafton and Ethan Kipin as well as freshman forward Josh Oliver, as they represent Pitt-Johnstown on this year's College Hockey East all-star team.
Seniors are not eligible to compete in the challenge.
"It's cool because it gives us a chance to get to the guys we battle against (in our conference)," Shima said.
"It's a unique experience, and I am glad I have this opportunity."
Shima produced 11 points (two goals and nine assists) in 21 games, which is one point behind Dan Yost and Brendan Shevchik to be the team's highest-scoring defenseman.
The all-stars are not only to compete to see who has the best conference, but for a chance to play in Europe this December.
Next January is also on the line, as players from any conference can be chosen to fill the 24-man Division III select roster.
The team is to travel to Europe to play against teams from multiple European countries.
Pitt-Johnstown alumnus Troy Schall was selected to the team after the 2014 all-star challenge and was afforded the opportunity to play in places such as Bratislava, Slovakia and Munich, Germany Vienna, Austria along with Bled, Slovenia, over winter break after the 2014 fall semester.
The trip lasted two weeks and consisted of eight games.
"It is more of a skill and finesse game with less hitting," Schall said.
"It was a bigger ice surface (as it is an Olympic-size rink) than what (players in America) are used to, so players who moved the puck well and used their speed had an advantage."
The College Hockey East is one of the 10 conference's that make up the club hockey association's third division.
Other than the Icecats, other Division III league  conference members include California University (Pa.), Robert Morris University and West Virginia University, along with Penn State-Behrend and Fredonia State.
"I'll be playing with a few kids who have caused me to bleed more than once, believe it or not," Shima said.
"But we are all mature enough to realize that none of it is personal."
According to Swankler, the conference's team held practice March 19 in Warrendale and is to hold another one tomorrow in West Chester a day before the tournament starts.
The team's first game is scheduled for 10 a.m. April 1, against the American Collegiate Hockey Assocation's Independent All-Stars.