Team earns first playoff win since 2013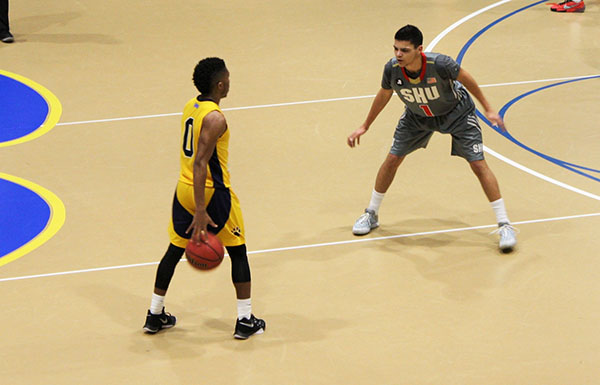 The Pitt-Johnstown men's basketball team won its first-ever Pennsylvania State Athletic Conference tournament game Feb. 27, defeating Seton Hill University 81-72.
The score was tied at 54 and 57 points before the Mountain Cats went on a seven-point run, which included a crucial 3-pointer from junior guard Jake Laravie and a layup from redshirt  sophomore forward Issac Vescovi to regain control late in the game.
Vescovi produced a game-high 21 points and was one of four Mountain Cat players to score at least 15 points.
Sophomore guard Dale Clancy and senior guard Nate Snodgrass both had 15 points, along with 16 points added by junior forward A.J. Leahey.
Leahey went 4-for-4 from the 3-point range, which gives him 167 career three-point field goals and puts him in seventh place on the Mountain Cats all-time 3-point field goal list.
He also remains 10 points shy of becoming the 27th Mountain Cat to reach 1,000 career points.
The Mountain Cats advanced to the Pennsylvania State Athletic Conference quaterfinals as they took on Indiana University (Pa.) last Tuesday at the Kovalchick Complex in Indiana.
In the program's third season as conference members, it is their second consecutive time appearing in the conference tournament.
In the teams' first-ever conference playoff game, the Crimson Hawks beat Pitt-Johnstown 82-63 in first-round action Feb. 28, 2015.
Vescovi led the team with points in both games, with 17 points the first game and 18 points the second.
Indiana went on to lose in the National Championship game last season.
"We just have to keep playing tough to accomplish our goal of a conference championship," sophomore forward Levi Masua said.
The Mountain Cats lost both regular season games against Indiana, falling 86-74 Jan. 13 at the Sports Center and 84-77 Feb. 17 in Indiana.
Snodgrass, who hit a game-winning shot against Clarion University Feb. 20 to clinch a first-round home game, said important games help drive the team to play better.
"The excitement in that moment (of taking a last-second shot) is tough to explain, but it definitely helped pick us up and motivated us more for post-season play," he said.
"Being able to have home-court advantage is a huge plus… it'll give us a type of comfort while we play, and, hopefully, we can pull off the win."
Head coach Bob Rukavina said he will be sad to see Snodgrass and fellow senior guard Rich Audu graduate after the season. 
"They both have been a huge asset to Pitt-Johnstown basketball," Rukavina said.
"It was great watching them grow over the years on and off the court… I know both men will accomplish a lot in their years to come."
Pitt-Johnstown finished the regular season with an 18-10 overall record and 13-9 in conference play.