Wrestlers prepare for Atlantic regionals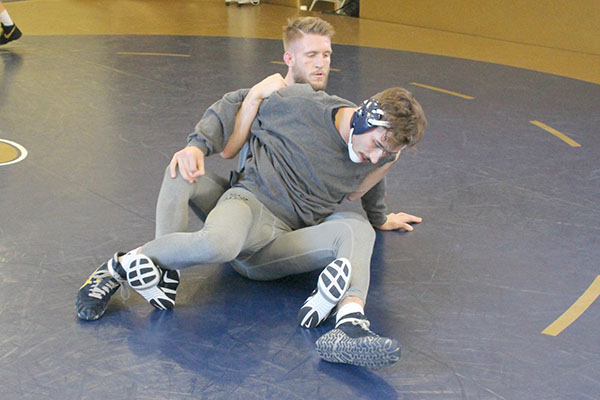 With an undefeated conference record of 7-0 and an overall record of 15-1, the Pitt-Johnstown wrestling team has earned a spot at the Atlantic Regionals over the weekend of in Erie at Mercyhurst University.
According to 184-pound senior Travis McKillop, the team is to face a lot of the same teams and competitors they have already faced this year.
"Mainly it will be Mercyhurst University and Notre Dame College (South Euclid, Ohio)," McKillop said.
"Notre Dame especially will compete with us very hard."
To prepare for regionals, McKillop said that he is thinking of it as just another normal match.
"We are still continuing to put in the extra time and conditioning," McKillop said.
"We are working harder and harder each day."
Individually though, McKillop said he wants to stay dominant, constantly scoring points and looking for falls.
A big obstacle that the team wants to overcome is themselves and their own mind, according to McKillop.
"We need to just stick  to our game and continue believing in the system," McKillop said.
Senior 285-pound wrestler D.J. Sims said that there is great competition between Pitt-Johnstown and two other teams at regionals.
"We really want to beat Mercyhurst and Notre Dame again," Sims said.
The first match between the No. 3 Mountain Cats and No. 7 Mercyhurst Lakers was held Feb. 13 when the Mountain Cats defeated the Lakers 24-12 to earn their first Pennsylvania State Athletic Conference Dual Meet Championship on Senior Night.
The Mountain Cats have swept teams such as Millersville University 44-0, Gannon University 42-0 and Seton Hill University 36-8.
To prepare, Sims said that everyone is working on their craft and skill set.
"Every preparation can be very different for different individuals," Sims said.
"We need to put the pressure and frustration on our opponents," he added.
Senior 141-pound wrestler Sam Hanau said that conditioning will help the Cats prepare for regionals.
"We are focusing a lot on conditioning and sharpening our technique," Hanau said.
Winning at regionals is the ultimate goal, Hanau said.
"I really want to win both as an individual and as a team," Hanau said.
Redshirt sophomore 165-pound wrestler Tyler Reinhart is confident the team will continue with their eight match win streak into the tournament.
"We are a really close team, and we've all maintained the same goals throughout the year.
"That's why we've improved so much and have accomplished all we have so far," Reinhart said.