Senior Snodgrass stands out on court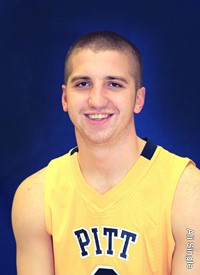 Senior guard Nate Snodgrass joined the Mountain Cats lineup after playing a season at Division I Northern Kentucky University in the 2013-2014 season.
He led the team with 108 assists and 25 steals, along with scoring double figures in eight games and posting highs of 25 points.
Ever since, Snodgrass has been a key player for the Pitt-Johnstown  men's basketball team.
Twenty-seventh year head coach Bob Rukavina said Snodgrass is one of the smartest basketball players he has coached here at Pitt-Johnstown. 
"He really understands how to play … his basketball IQ is off the charts … it's like having a coach on the floor."
As a junior, Snodgrass started 20 games and averaged 7.2 points, 2.1 assists and ranked second on the team with a 45.3 percent (24-53) 3-point field goal percentage. Snodgrass also shot 49 percent from the field and 81.3 percent (39-48) from the free-throw line.
Rukavina said Snodgrass' role has changed since last year as, he had to be more concerned about running the offense and getting his teammates involved.
"This year, he's moved to the shooting guard position … he's been more aggressive and scoring more, which shows, considering he's one of the leaders in the country from the 3-point range," Rukavina said.
This season, Snodgrass ranks second on the team in scoring and 3-point field goals.
He averages 14.4 points per game with a total of 346 points and has made 52 3-point shots as of Feb. 14, according to the Pitt-Johnstown athletics website.
Snodgrass was named to the 2016 College Sports Information Directors of American First-Team Academic All-District II Men's Basketball Team along with junior forward A.J. Leahey.
The two are recognized as the nation's top student-athletes for their combined performances athletically and in the classroom.
Snodgrass led the Mountain Cats on Feb. 10 against Edinboro University with 21 points and six assists; however, they fell short with a 78-76 loss in overtime.
The loss was the second straight defeat in overtime for the Mountains Cats.
The first time Pitt-Johnstown faced Edinboro University Jan. 16, Snodgrass led the team in points and had a game-high 23 points in an 80-65 Pennsylvania State Athletic Conference West Division win.
Snodgrass had a team-high 16 points with five assists as the Mountain Cats defeated Mercyhurst University Feb. 13 in a 69-65 win, advancing their record to 11-8 in conference play and 15-9 overall.
Rukavina said he is very proud of the players' effort this year and gives credit to everyone's energy and enthusiasm even when the team suffers a tough loss.
"We hope to finish strong the last three games and try to make a run in the playoffs towards a conference championship and a National Collegiate Athletic Association tournament bid," Rukavina said.
Snodgrass said theteam is only losing two players next year, including him, and he expects them to win just as many games, if not more, next year.
"They have a good core right now that will most likely still be around for next year … I know the guys will work hard in the offseason and practice … your collegiate career flies by and I'm sure going to miss it when it's over," Snodgrass said.
The Mountain Cats go on the road to face Indiana University of Pennsylvania on Feb. 17 and Clarion University on Feb. 20 before closing out the regular season at home Feb. 24 against Slippery Rock University on senior night.