Recreation leagues increase in popularity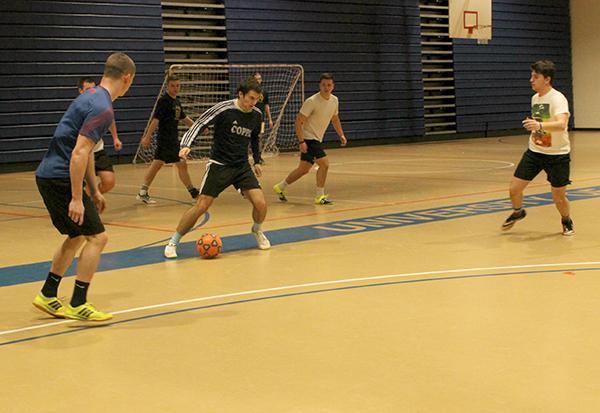 The Pitt-Johnstown Intrmural coed volleyball league currently unfolding at the Wellness Center has had an increase in popularity.
Senior Brandin Hilty, a member of One Bump Chumps, said that it was a great turnout this year.
"There are more players than there were last season," Hilty said.
With only 13 teams playing, they are all competing for a shot to win the league championship during the first week of March.
One Bump Chumps sophomore player Jake Ardelitz said that his team is focusing on having fun.
"We just want to have a good time and see what happens,"Ardeliz said.
"We are doing better than last year, so hopefully we make it to the championship and snag a free shirt."
The One Bump Chumps are 3-1 heading into the end of their season, but still have to face the teams Unprotected Sets, Sig Tau and Will Work for Sets before attempting to qualify for the championship game.
Junior Jordan Keibler said that this is the first season he is playing coed volleyball.
"It seems legit," Keibler said.
Some other teams playing are the Blazin' Ballers, Gold Diggers and Take a Hit, along with The Smash.
More teams like Delta Chi, 2 Legit 2 Hit and Cash Money Heroes are also trying to make an impact in the season.
League games are held every Tuesday, Wednesday and Thursday in the Wellness Center at either 9, 10, or 11 p.m.
According to Hilty, as soon as the volleyball season is over, they will continue their team into the second half of the semester.
Coed volleyball is to also continue with a new season in the second half of the semester as well, playing with new rosters and new teams.
One Bump Chumps is to play Thursday at 9 p.m. against Unprotected Sets, followed by The Smash against Delta Sigma Chi at 10 p.m, and Basement Dwellers against 2 Legit 2 Hit at 11 p.m.
Other intramural sports offered at the Wellness Center include flag/powder puff football, 5v5 and 3v3 basketball and whiffle ball, along with competitive and coed soccer.
More information can be found on the Pitt-Johnstown Athletics website.