Tyler Reinhart dominates on the mat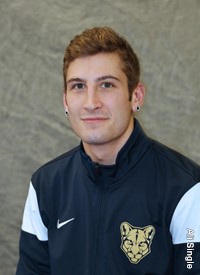 Competing in the 165 weight class, wrestler Tyler Reinhart has been an essential part to the Mountain Cats' success, earning a 5-0 record as of Feb. 7 this season.
Last year in his redshirt freshman season, competing in the 165 weight class, Reinhart was named the Pennsylvania State Athletic Conference Wrestling Freshman of the Year after posting a 19-7 overall record and a 9-1 dual meet record.
Head coach Pat Pecora said Reinhart has improved immensely since last season.
"He's very long and lean… he's a smooth wrestler for his weight class," Pecora said.
Reinhart won a true fourth-place match at the Super Region I Tournament to qualify for nationals.
He also finished fifth in the Pennsylvania State Athletic Conference Championships; his 19 overall wins and nine victories by decision both ranked fourth on the team.
"I feel like I've improved a lot since last season. I get a bunch of extra workouts in and outside of practice, and I do extra cardio everyday so that I'm in the best possible shape I can be," Reinhart said.
Reinhart has won five of his last six matches. He suffered an 8-6 overtime loss Jan. 9 against senior Dimitri Willis from Maryville University, the top-ranked team in the country at that time, at the National Wrestling Coaches Association Division II National Duals in Fort Wayne, Indiana.
He dealt Wheeling Jesuit (WV) University freshman Keegan Driscoll a 13-2 major decision loss Jan. 29, defeated Seton Hill University freshman Andrew Doak in a 12-0 major Jan. 20 and pulled off a 3-1 overtime decision against Gannon University redshirt junior Nathaniel Ross on Jan. 22.
Reinhart also got the win over Lake Erie Ohio College fifth-ranked senior Matt Vandemeer with a 5-2 decision Jan. 15.
Feb. 5, Reinhart got the fall against Millersville University sophomore Seth Decker at 57 seconds to add to his winning streak.
Reinhart said that his newly grown mustache has helped him win this season.
The Pitt-Johnstown wrestling team is ranked No. 2 in the Western Division II standings as of Feb. 7.
"I feel good about the team as a whole and feel good about where we're at."
"I tell all the guys to be the best you can possibly be because at the end, I want them to leave the season content with what they've accomplish," Pecora said.
The team moved up one spot to third in the National Wrestling Coaches Association Division II Poll released Jan. 28.
The Mountain Cats are to close out conference play with an away meet against the third best team in the conference, Shippensburg University, Feb. 9.
  Senior night is to be Feb. 13 against No. 1 ranked Mercyhurst University, in what will likely end up being a regular season conference championship for the third straight year.
The Pitt-Johnstown wrestlers are 5-0 in conference matches and 13-1 overall.