Freshman's career starts strong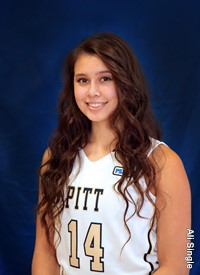 The Pitt-Johnstown women's basketball team has been greatly impacted by freshman guard Ana Hollen on and off the court.
Hollen is averaging 10 points per game, along with four rebounds, and has been averaging 30 minutes of court time per game, as of Jan. 29.
She was recently named Pennsylvania State Athletic Conference Western Division Freshman of the Week. She produced a career-high 23-point game leading the Lady Cats to an 87-86 overtime win over Indiana University of Pennsylvania Jan. 13.
Head coach Mike Drahos described Hollen as a hard worker and true competitor.
"Her hard work and effort are seen in her starting every game so far, something that is very difficult for a freshman to do at the collegiate level," he said.
"She has made a tremendous impact on our team since the moment she stepped on campus."
Hollen currently leads the team in minutes, tallying 570 so far this season. She also ranks with third on the team in overall points at 189 and fifth in rebounds with 71, according to the Pitt-Johnstown athletics website.
Drahos also said she is a skilled shooter, ball handler and defender.
"Ana is the type of player that hates to lose and has the ability to take her skills and abilities to another level when the game is on the line," he said.
The change from high school to collegiate basketball was not easy at first, Hollen said.
"The pace is so much faster, it took a while to get use to; girls are bigger, faster and better at this level," she said.
She said she worked a lot harder in practice, preseason and individually to be able to fit in and be able to make a difference on the court.
"I have improved a lot since coming to UPJ," she said.
"I had to be able to handle pressure without turning it over. I developed a pull-up jumper and a quicker release on my shot."
Hollen said her biggest goal while playing basketball at Pitt-Johnstown is to win a conference championship and get a chance to play in the national championship  tournament.
"There are nine games left … we can crawl out of the hole we dug ourselves in," she said.
"The season is far from over. We can still get some wins and make playoffs."
The Pitt-Johnstown women's basketball team is currently  4-11 in conference play and 7-14 overall, the team suffered a 71-67 loss to Seton Hill University Jan. 30.
The Lady Cat's  next game is Feb. 3 at California University of Pennsylvania.