Senior makes his mark in the conference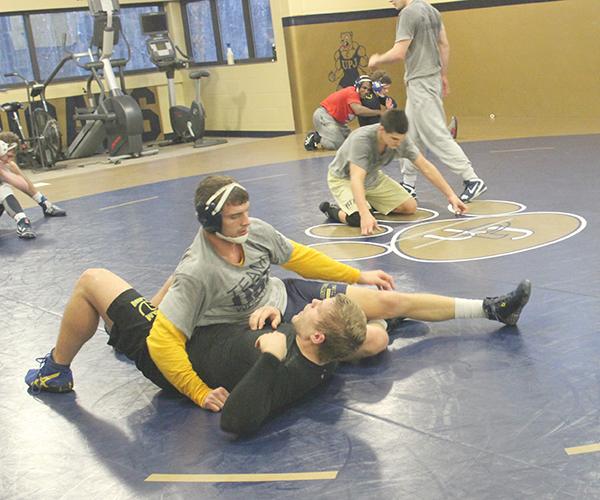 The wrestling team is on the road to a national title after placing second among the Division II teams in a conference tournament Saturday.
The tournament keep all conference teams, four Division I teams and the eight Division II teams. Pitt-Johnstown is one of the Division II teams.
According to wrestling coach Pat Pecora, the tournament benefitted his wrestlers because they got to face highly ranked Division I members of the Edinboro University team.
"It gives my wrestlers good experience and prepares them for the tournaments that really matter to us, like the regional tournament at the end of the season," said Pecora.
"The end of the season tournaments are far more significant to us."
Different players went through different preparations to ready themselves for the conference tournament.
According to 125-pound senior Evan Link, he liked to stay late after practice and work on little things with his neutral position, running to strengthen his lungs, too.
"We conditioned more than any other team that we faced and will face on later in the season. That is what gave us an advantage over our competitors," said Link.
"We have a coach who will push us past our limits so we can excel and continue to excel throughout the season."
According to 184-pound senior Travis McKillop, he treated the conference tournament as any other competition.
"I worked hard in the weight room so I could be prepared for what we faced," said McKillop.
"The tournament was a great test for my teammates and I; we had individual match ups with teams we had not wrestled yet."
Pitt-Johnstown's place in the conference tournament had no effect on the post season schedule.
According to Pecora, even though they always want to do well in conference tournaments, it is never a big tournament to them, whereas doing well at the end of the season is a big deal.
"This tournament was all about seeing how each conference team compares to the others," said Pecora.
"It is never like any other team sport in the conference."
McKillop became  two-time conference champion and conference tournament outstanding wrestler.
Link became conference runner-up, along with 285-pound sophomore D.J. Sims.