Freshmen soccer tandem is providing more offense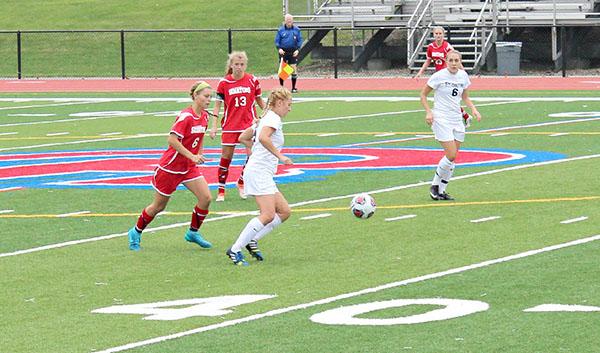 The Pitt-Johnstown women's soccer team 0-12-1 this season is feeling an energy from a 1-1 tie Oct. 10 against Lock Haven University.
Team members hoping to get in the win columnwith help from standout freshmen this season.
Freshman midfielder Kaitlyn Eckley is leading the team with 13 shots on goal and two goals.
Freshman forward Rachel Fleming has tallied 962 minutes with four shots on goal and one goal.
This is not the first time the two girls shared a field together. They previously played for a club soccer team, Big Valley Fury.
"It's really nice Rachel and I were able to continue our soccer careers together. We know each other's style of play and that helps us connect with each other on the field to make plays," said Eckely
Senior midfielder Kim Bonnett speaks highly of the two freshmen.
"Both girls know how to find the back of the net.
Fleming has a lot of speed to beat defenders one on one, Eckley knows how to shoot the ball from far out.
These girls are the reason we are scoring more than we did in the past."
Sophomore center midfielder Katie Bucchin said she appreciates the freshmen's skills.
"Head Coach Rachel Gironda brought the team hope with the addition of the freshmen.
The girls know what to do with the ball and know where to put it, allowing us to connect better on the field than last year."
Feming and Eckley are leading in assists too.
During last Tuesday's game against Davis & Elkins (W.Va.) College, the one goal scored by freshman Jessica Getz was assisted by freshmen Eckley and Fleming.
Eckley has played 14 games and has started three; Fleming has played in 14 and started in 12 games.
The Pitt-Johnstown women's soccer team plays home today at 1:30 p.m against California University of Pennsylvania.