Lady Cats spike early conference foes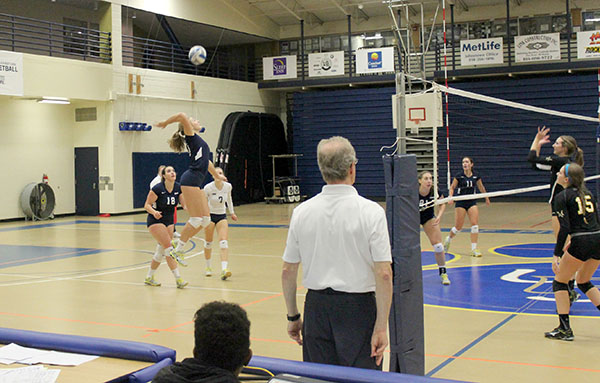 Pitt-Johnstown women's volleyball team is 12-2 as of Oct. 4, coasting on an eight- game winning streak.
The streak includes six straight victories over conference opponents from both divisions, most recently at home Friday and Saturday against Millersville University and East Stroudsburg University.
The Lady Cats swept both matches with sophomores Cambria Wierman and Marissa Erimino being among the team's leading scorers in both.
To keep their record going, senior right side hitter Larissa Swank said they stand with their motto before going in a game.
"We try to start strong, stay strong and end strong," said Swank.
According to Swank, the team has what they need to be successful.
"Things like communication, energy and focus throughout the matches are important to us, and we all know that they are the factors we need to be a successful team."
Wierman, an outside hitter, said the coaches give the team a lot of motivation to keep up their winning streak.
"When we go up against a really tough team and are in tight matches, our coaches tell us that it will come down to who wants the game more," said Wierman.
"We played with heart and left everything on the court."
As far as working as a team goes, Wireman said that volleyball is a team sport, and, when everyone is performing at their best, the whole team can function as one unit and make qinning easier.
Even though they need to work as a team, Weirmen said that the women find themselves to be the biggest challenge to overcome.
"I think us players give ourselves the biggest challenge because we constantly push our minds and bodies to be better than we were yesterday," said Weirman.
Swank said the team members need to focus on their side of the net.
"Our biggest challenge this season will be controlling our side of the net and working together."
With a winning record, the team will be able to compete in the conference tournament.
"With our winning record, we will get better placement in the conference tournament and we will have more confidence when we play," said Weirman.
According to Swank, the conference tournament has a lot of tough teams, but the team expects to compete against them every year.
"It's safe to say that we are excited to see what the season could bring to us."