New Laxcats prepare for coming season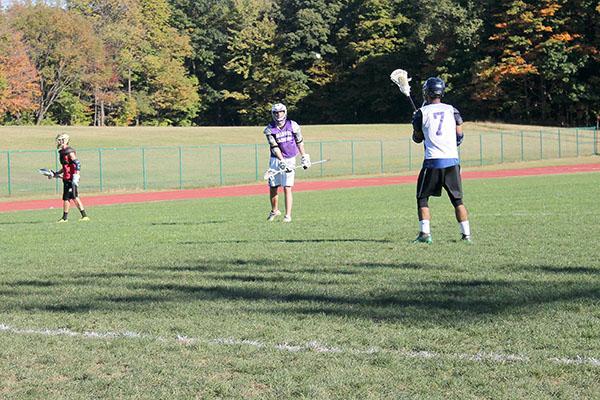 Lately, around campus, one will notice the lacrosse players playing pass around the Wellness Center, by the Townhouses and everywhere else on campus.
Pitt-Johnstown men's lacrosse team is ready to start their fall season this year. They held their first practice last week.
At their first practice, junior goalie Webster Burrier said that they had a lot of new faces.
"Our team is very young, we have 12 freshmen, 7 sophomores, 5 juniors and 3 seniors," said Burrier.
The team only lost four player last year to graduation; this year, they have 15 returning players.
"This is both a blessing and a curse; due to our large percentage of underclassmen, we know that there is security for the team in coming years," said Burrier.
With all of the new players, junior defensive captain Brian Betz said that coming together as a team will be a big challenge.
"I noticed a lot of talent from new players at our first practice, but there are so many young faces that it could take a while to come together," said Betz.
"We are in the rebuilding process now and if we come together and have fun at the same time, that is a win in our book."
The team is doing something different this year with the captains.
In the past, according to Burrier, the team has done a two-captain set-up.
"We voted myself, junior attack Michael Dowling, sophomore midfield Steven Kowalsky and Betz to be captains this year," said Burrier.
"We feel that our four captain set-up will provide us with more viewpoints when it comes to making decisions."
For the past nine seasons, the team has a record of 40-10 as a club team.
According to coach Teich, the team has been strong over the years.
"We can be great again this year if we come together as one unit," said Teich.
Even though they do not have a set schedule yet, according to Burrier, league regulations require that they play all teams from the Pennsylvania State Athletic Conference.
"Outside of the conference, we will also play Penn State-Altoona, Robert Morris University (Moon, Pa.) and Waynesburg (Pa.) University," said Burrier.
The club is not well known on campus yet, so the team has plans to get the word around.
"People will come up to us as we're messing around playing pass and ask us what we're doing because they have never seen lacrosse before," said Betz.
According to Burrier, word of mouth has done wonders for the team in terms of raising awareness not only from prospective students, but from the campus at large.
"It is really cool to see people get excited about the sport, that gives us a lot of hope for the upcoming years that we could possibly get new players," said Burrier.