Farm Apes running on last year's record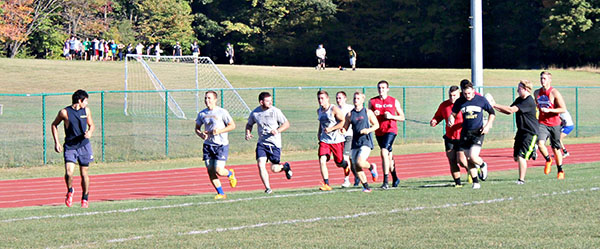 Coming off of a 2-0 start this season, the student-run rugby team plans to surpass its previous accomplishment of reaching seventh place nationally in a Silver League.
The challenge of not having a team summer training pushes the players to work harder during the preseason.
"Before the season, we started recruiting and practicing heavily," said sophomore flanker Shane McGuire.
Since the season has started, the team is participating in three practices a week with Monday being a run and lift day; Wednesday is a full practice; and Friday is a walk-through preparation.
"Preparing for games doesn't change," said senior captain and president Josh Horner.
"There are always things to work on weekly to make sure we are our best for the matches."   
"The team is run by upperclassmen, and that's what makes us unique," he said.   
Senior first center Joe Gongloff is in charge of the back, while president Horner is in charge of all the forwards.
They also implement all the lift and run team workouts.
Coming off of a successful season of 6-1 last year, the team has nothing but success in their visions.  Sophomore flanker Ryan Wiederstein explained the team goals.
"Obviously, we want to win as many games as possible, but, after coming back with a loss from the National Championship Semifinals, we plan to get back there and win it all."
Alumni contribute to the team's success as well.  The team hosted a tournament at the end of last season and some alumni played with them.
"They gave us young guys a lot of useful tips and helped teach us a lot of the trickier rules," continued Wiederstein.
Team chemistry is important to Horner.
"I believe team cohesion is crucial for winning games."
Horner implemented new team building activities this year.  They participate in team campus runs on Mondays and team dinners throughout the season.
"Knowing each other and developing that trust makes us that much better on and off the field," Horner said.