Hot hitters strive to lift team's slump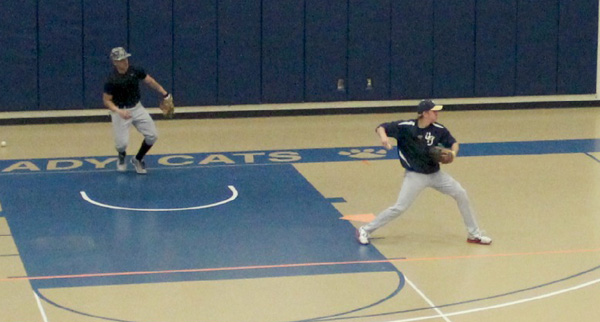 The Pitt-Johnstown baseball team had a rough start to the season, but have  had a few outstanding performances.
The likes of Nate Negri, and Sean Sleigh make for a high-powered batting order when paired with Mike Palkovitz and Luke Williams.
Palkovitz is batting a healthy .333 average for the season.
"At the plate I'm just trying to get a good pitch to hit. The guys that hit behind me have been hitting well, so I've been getting some good pitches to hit," said Palkovitz.
"We have a lot of young guys, so I've been trying to talk to them about their approach and get them thinking about what the pitcher is likely to throw them."
He said he has yet to commit an error in 17 games this season and hopes to keep that streak going.
Another exceptional player this year has been junior Sean Sleigh.
Like Palkovitz, Sleigh is sporting a .333 average but also has batted in 10 runs.
Sleigh is in a four-way tie to lead the team with two home runs.
Nate Negri owns the highest average on the team with an impressive .375.
Not only has Negri been hitting for average but for power also. He has two home runs and two triples.
'The biggest key to my success at the plate this season is being patient and waiting for a pitch that I can put a good swing on," said Negri.
Negri has been setting Pitt-Johnstown's offense's cornerstone for a few years now.
Last year, Negri batted an impressive .349 average and .405 in a breakout freshman year.
With 15 RBI, Negri is second on the team to a rather unexpected player.
A redshirt freshman first baseman Luke Williams has had a breakout season in his first year of college baseball.
Williams was a redshirt last year to retain a year of eligibility.
He accumulated a total of only nine at-bats last year and struck out on six of them.
A year has made all the differences, as he now leads the team with 17 runs batted in and two home runs.
Williams is one of the three players to start every game of this season for the Mountain Cats.
He has committed only two errors this season.