Softball players look to decrease errors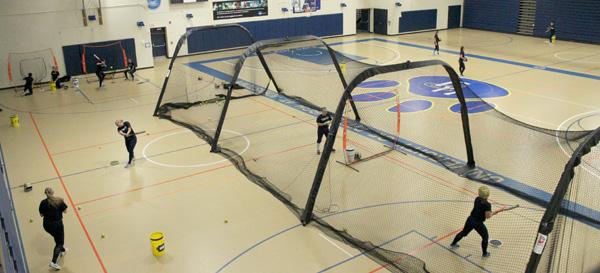 With Pitt-Johnstown's softball team's first ever spring break trip behind them, the Lady Cats played their inaugural Pennsylvania State Athletic Conference games Saturday.
The team defeated Clarion University in a doubleheader at Iron Horse Sports Complex,  a new baseball and softball complex on Verla Drive in Windber.
The complex includes multiple indoor and outdoor fields.
The Lady Cats were not able to pull out a victory during the spring break trip to Clermont, Fla.
The team had gone 0-8 and was outscored 64-16, averaging an 8-2 loss per game over the week span.
Fielding errors were an important factor in their eight-game losing streak.
The team committed 21 errors while their opponents made eight. Six Lady Cats made multiple errors.
The team committed three errors or more in half of the spring trip games including a 17-6 loss to Saint Xavier University (Chicago) March 12 when the Lady Cats made seven errors.
Freshman outfielder Marley Elbin said that, even though the team had made a lot of mistakes, the spring trip was the first time her teammates played together.
"I think the team definitely understands each other as we are playing more with each other," she said.
Sophomore utility player Katie Uzelac attributed the early season struggles to a lack of experience.
"(One thing the team has learned so far) is that we are finding out who our team leaders are," she said.
"It has been hard (for a leader to develop) since we do not have any seniors (or players with experience) who have competed at a collegiate level."
Another team struggle has been pitching.
Of the three Lady Cat pitchers, not one had an earned run average lower than 5.25 with a team earned run average of 6.36 as of Friday.
"I learned how important it is to hit every single spot in the strike zone because, if you miss, then the batter will get a hit," freshman pitcher Melissa Wagner said.
"At any other level of the game, if you miss the part of the strike zone you aim for, you can get away with it, but, in collegiate athletics, you can't."
She also said that she feels more pressure pitching in college because her whole career had been in preparation to play in college.
Wagner gave up 23 earned runs and walked 12 batters in her first 23 innings pitched, but experience can go a long way for a player mentally.
"The trip to Florida definitely has helped my confidence because it gave me the opportunity to become comfortable with the team defensively, and has given me an idea of what to expect during the season."