Talent disparity causes unequal intramural scores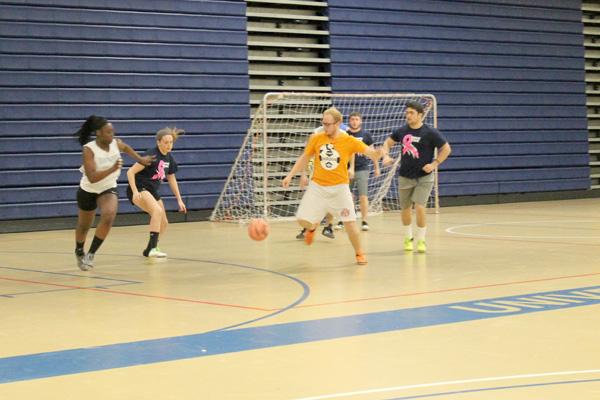 There is a talent variance when it comes to Pitt-Johnstown intramural non-competitive soccer. Some students are former Division II athletes, and some have little athletic experience.
Freshman Andrew Downey officiates the soccer matches.
"Teams with blazing fast, skilled players often beat up on the less-skilled teams," Downey said.
"Some of the scores are outrageous, and I think teams need to know when to take it easy."
Lopsided games are common in the Pitt-Johnstown league.
Junior Zoshung Armel Tenleiang, from Cameroon, said intramural sports create a chance for everyone to play.
"Some players could be the stars of our university's soccer team, and some don't have much skill," he said.
American students accept beginners to the game, but this is not the case in Cameroon.
"In Cameroon, if you're bad, you don't play. If you do, you won't play for long. The good players will humiliate the players who don't deserve to play."
Tenleiang plays for a team called The Legends.
"The way the team is used to playing, we immediately recognize bad players and weaknesses," he said.
Tenleiang said there is logic behind not stooping to a lower-level play.
"To hold back against opponents is to show disrespect to the beautiful game and your opponent," he said.
Freshman Stephen Delphi plays for The Archangels, who lost their first game 24-0. He said the team does not let the score get in his way in developing a love of the game.
"Losing does not interfere with my interest in soccer, and my teammates are eager to play more games," said Delphi.
"We don't let the score get in the way of having fun."