Basketball players striving for top six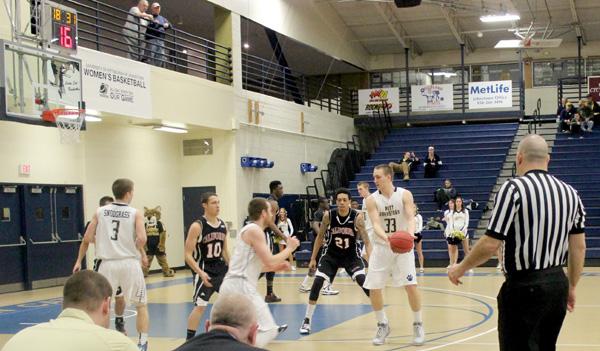 Garrett Stinson, Contributing Writer
February 20, 2015
The Pitt-Johnstown men's basketball team inched closer to playoffs after their 56-52 win Feb. 11 over California (Pa.) University.
Senior Ian Vescovi led the team with 21 points and a career-high 17 rebounds.
"We have been improving on the defensive end throughout the year," said Vescovi.
"We have a relatively high young team, and, lately, our defensive rotations have really improved."
"We're getting contributions from everyone, and we have been playing with more urgency; a credit goes to the coaching staff."
Vescovi is nine points away from becoming Pitt-Johnstown's 26th 1,000-point scorer.
The Mountain Cats find themselves in fifth place in the West Division of the Pennsylvania State Athletic Conference.
Since the top six teams from each division advance to the playoffs, Pitt-Johnstown is in position to clinch a playoff berth in their final few games.
Coach Bob Rukavina was focusing on the next game.
"Our next game is against a big, physical Gannon team. A win would be great. We can't look toward playoffs until we win a few more (games)."
Coming off a mediocre 13-13 season last year, the team looks to avoid missing the playoffs by one spot like they did last season.
The Mountain Cats were not able to over come the defensive strangehold of Gannon, losing 66-36.
There are only three games on the Mountain Cats' schedule before they head off to the conference tournament.
The tournament runs from Feb. 28 through March 7 and consists of three rounds and a championship game.
Their next two games come against the top three seeds in the division, making a tough path to close out the season.
While every remaining game is vital to playoff hopes, everything could come down to a final game against Edinboro University.
The fighting Scots are in seventh place and are looking to move into the sixth and final playoff spot; a win over Pitt-Johnstown could make that a possibility.
"We need to continue to play well at home like we've done all year, then hope to steal an away game," said junior Nate Snodgrass.