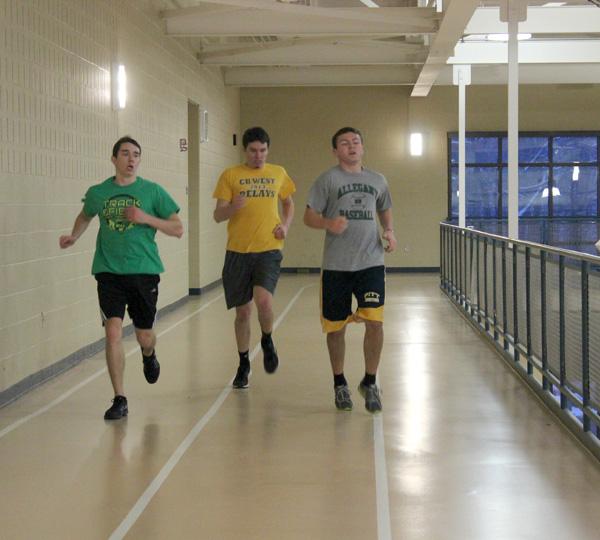 Pitt-Johnstown track and field team members have started their season in full swing this month.
The men and women's track and field teams traveled on Jan. 17 to West Virginia University for their first meet.
Sophomore mid-distance runner Rebecca Schorr placed first in the 800-meter run with a time of two minutes, 27 seconds.
Schorr also placed fifth in the 4×400 meter relay along with her relay teammates junior Jenny Harold, Dominique Jefferson, and freshman Kelci Warshel.
Freshman sprinter and hurdler Jefferson placed fourth in the 400-meter dash with a time of 68.63 seconds, while freshman Nina Pugliese placed close behind her in sixth with a time of 72.97 seconds.
Warshel placed third in the triple jump with a length of 34 feet, five inches, and placed seventh in the 60m hurdles with a time of 9.74 seconds.
The West Virginia Open had a many second-place finishers for the men's team.
Freshman Lawrence Cernisky placed second in the 60-meter dash with a time of 7.16 seconds.
Other second placers were junior Matthew Pride in the 60-meter hurdles with a time of 8.99 seconds, freshman Jason Burkis in the long jump event with a 20 feet, one inch, and freshman David Simmons in the triple jump event with 40 feet, nine inches.
Freshman Andrew Downey placed third in the 400-meter dash in 55.16 seconds, while freshman Matt Nedzinsky placed just behind Downey in fourth place with a time of 55.16 seconds.
Jefferson said that the West Virginia Open was extremely successful.
Freshman James Horwat said that the meet went very well for it being the team's first indoor meet.
During the meet, Pitt-Johnstown team members qualified for the conference championship.
Also, some team members were able to qualify for the Bucknell University (Lewisburg, Pa.) Open.
"Having teammates qualify for Bucknell is great because Bucknell is extremely hard to get an invitation to," said Jefferson.
Now that the season is just beginning, Jefferson said that the team has talent and much potential.
"This season is going to be the beginning of many successful seasons," said Jefferson.
Horwat said the team can do great this season.
"We all did so well (in West Virginia), it showed that we are a great group together here, and we can do great things," said Horwat.
The team has 11 more meets to go this season, with one goal, like any other teams.
"We want to rise to the top in everything that we do as a team," said Jefferson.